Descrizione del contenuto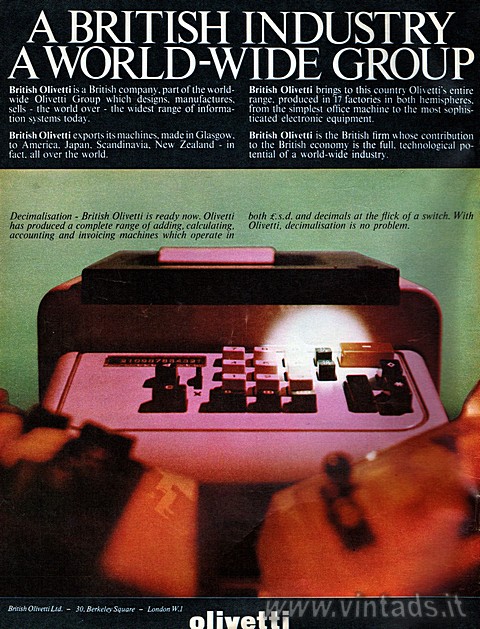 ---
Gradimento:





(0 voti)
---
Per scaricare questo contenuto devi fare login o registrarti
---
Commenti:
Non è presente alcun commento
Effettua il login per inserire un nuovo commento
Titolo:
A BRITISH INDUSTRY A WORLD-WIDE GROUP
---
Dimensione file:
364 KB (983x1289 pixel)
---
Tipo del contenuto:
pagina di rivista o giornale
---
Fonte pubblicazione:
The Sunday Times Magazine
---
Data della fonte:
8 December 1968
---
Linguaggio:
en (English)
---
Marca del contenuto:
Olivetti

&nbsp
---
Caricato da:
Viola
il 02-05-2016
---
Testo originale:
A BRITISH INDUSTRY A WORLD-WIDE GROUP
British Olivetti is a British company, part of the world-wide Olivetti Group which designs, manufactures, sells - the world over - the widest range of information systems today.
British Olivetti exports its machines, made in Glasgow, to America, Japan, Scandinavia, New Zealand - in fact, all over the world.
British Olivetti brings to this country Olivetti's entire range, produced in 17 factories in both hemisphere, from the simplest office machine to the most sophisticated electronic equipment.
British Olivetti is the British firm whose contribution to the British economy is the full, technological potential of a world-wide industry.
Decimalisation - British Olivetti is ready now. Olivetti has produced a complete range of adding, calculating, accounting and invoicing machines which operate in both £.s.d. and decimals at the flick of a switch. With Olivetti, decimalisation is no problem.
British Olivetti Ltd. — 3O, Berkeley Square — London W1
---
Testo tradotto:
un'industria britannica, un gruppo mondiale
-->continua-->
---
Tag: