Descrizione del contenuto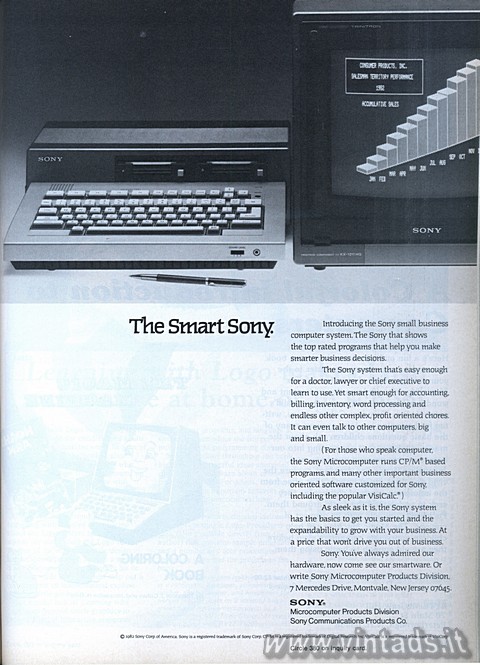 ---
Gradimento:





(0 voti)
---
Per scaricare questo contenuto devi fare login o registrarti
---
Commenti:
Non è presente alcun commento
Effettua il login per inserire un nuovo commento
Titolo:
The smart SONY
---
Dimensione file:
1,4 MB (2312x3202 pixel)
---
Tipo del contenuto:
pagina di rivista o giornale
---
Fonte pubblicazione:
Byte
---
Data della fonte:
January 1983
---
Linguaggio:
en (English)
---
Marca del contenuto:
Sony

&nbsp
---
Caricato da:
Maverich
il 02-10-2019
---
Testo originale:
The Smart Sony
Introducing the Sony small business computer system. The Sony that shows the top rated programs that help you make smarter business decisions.
The Sony system that's easy enough for a doctor, lawyer or chief executive to learn to use. Yet smart enough for accounting, billing, inventory word processing and endless other complex, profit oriented chores. It can even talk to other computers, big and small.
(For those who speak computer, the Sony Microcomputer runs CP/M® based programs, and many other important business oriented software customized for Sony, including the popular VisiCalc.®)
As sleek as it is, the Sony system has the basics to get you started and the expandability to grow with your business. At a price that won't drive you out of business.
Sony. You've always admired our hardware, now come see our smartware. Or write Sony Microcomputer Products Division, 7 Mercedes Drive, Montvale, New Jersey 07645.
SONY®
Microcomputer Products Division
Sony Communications Products Co.
---
Tag: