Descrizione del contenuto
(PDF MULTIPAGINA)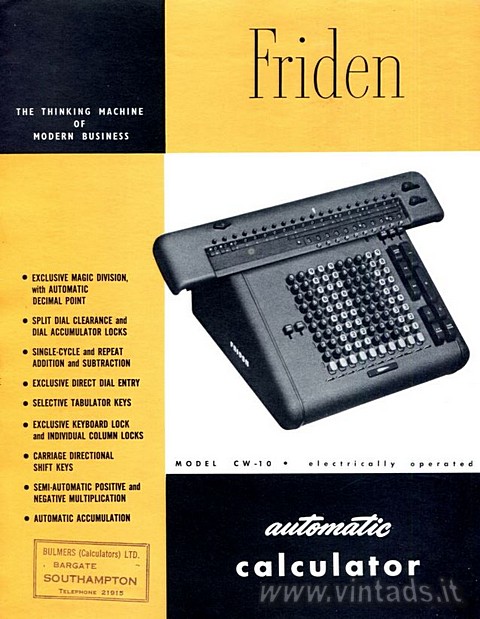 ---
---
Gradimento:





(0 voti)
---
Per scaricare questo contenuto devi fare login o registrarti
---
Commenti:
Non è presente alcun commento
Effettua il login per inserire un nuovo commento
Titolo:
Friden CW the thinking machine
---
Dimensione file:
5,4 MB (2 pagine
PDF MULTIPAGINA
)
---
Tipo del contenuto:
brochure o inserto staccato
---
Data della fonte:
1949
---
Linguaggio:
en (English)
---
Marca del contenuto:
Friden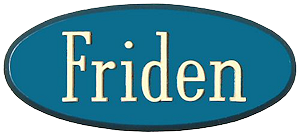 &nbsp
---
Caricato da:
Maverich
il 13-12-2015
---
Testo originale:
Friden
THE THINKING MACHINE OF MODERN BUSINESS
• EXCLUSIVE MAGIC DIVISION, with AUTOMATIC DECIMAL POINT
• SPLIT DIAL CLEARANCE and DIAL ACCUMULATOR LOCKS
• SINGLE-CYCLE and REPEAT ADDITION and SUBTRACTION
• EXCLUSIVE DIRECT DIAL ENTRY
• SELECTIVE TABULATOR KEYS
• EXCLUSIVE KEYBOARD LOCK and INDIVIDUAL COLUMN LOCKS
• CARRIAGE DIRECTIONAL SHIFT KEYS
• SEMI-AUTOMATIC POSITIVE and NEGATIVE MULTIPLICATION
• AUTOMATIC ACCUMULATION
MODEL CW-10 • electrically operated
automatic calculator
Friden
exclusive features save time and money for you...
Semi-Automatic MULTIPLICATION. With the Add key in the Repeat position an amount remains on the keyboard as it is multiplied with the Plus Bar, by each figure of the multiplier, which appears in the lower dials as a visible proof of accuracy. The product appears in the upper dials.
FRIDEN Split Dial CLEARANCE and Accumulator Locks permit simultaneous accumulation of products in one side of the dials as individual products appear in the other side. The lower dial lock is used to accumulate multipliers, quotients and grand totals.
FRIDEN Exclusive MAGIC DIVISION is Completely Automatic... Set the dividend on the keyboard and touch the Enter Dividend key. Set the divisor on the keyboard and touch the Divide keys. The rest is entirely automatic. It is not necessary for the operator to clear the dials, position the carriage tabulate the carriage, clear the keyboard or determine the decimal point. Fully automatic operation reduces opportunity for errors, saves time and effort. Individual Key Locks permit use of constant divisors.
BULMER'S (CALCULATORS) LTD. EMPIRE HOUSE, ST. MARTINS-LE-GRAND LONDON, E.C.I
---
Testo tradotto:
Friden
La macchina pensante per il business moderno
---
Tag: