Descrizione del contenuto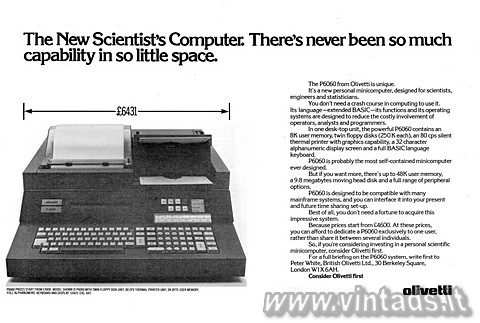 ---
Gradimento:





(0 voti)
---
Per scaricare questo contenuto devi fare login o registrarti
---
Commenti:
Non è presente alcun commento
Effettua il login per inserire un nuovo commento
Titolo:
so much capability in so little space
---
Dimensione file:
565 KB (2412x1624 pixel)
---
Tipo del contenuto:
pagina di rivista o giornale
---
Fonte pubblicazione:
New Scientist
---
Data della fonte:
9 December 1976
---
Linguaggio:
en (English)
---
Marca del contenuto:
Olivetti

&nbsp
---
Caricato da:
Viola
il 02-05-2016
---
Testo originale:
The New Scientist's Computer: There's never been so much capability in so little space.
£6431
The P6060 from Olivetti is unique.
It's a new personal minicomputer, designed for scientists, engineers and statisticians.
You don't need a crash course in computing to use it.
Its language—extended BASIC—its functions and its operating systems are designed to reduce the costly involvement of operators, analysts and programmers.
In one desk-top unit, the powerful P6060 contains an 8K user memory, twin floppy disks (250 K each), an 80 cps silent thermal printer with graphics capability, a 32 character alphanumeric display screen and a full BASIC language keyboard.
P6060 is probably the most self-contained minicomputer ever designed.
But if you want more, there's up to 48K user memory, a 9.8 megabytes moving head disk and a full range of peripheral options.
P6060 is designed to be compatible with many mainframe systems, and you can interface it into your present and future time sharing set-up.
Best of all, you don't need a fortune to acquire this impressive system.
Because prices start from £4600. At these prices, you can afford to dedicate a P6060 exclusively to one user, rather than share it between several individuals.
So, if you're considering investing in a personal scientific minicomputer, consider Olivetti first.
For a full briefing on the P6060 system, write first to Peter White, British Olivetti Ltd., 30 Berkeley Square, London W 1 X 6AH.
Consider Olivetti first
P6060 PRICES START FROM £4600. MODEL SHOWN IS P6060 WITH TWIN FLOPPY DISK UNIT, 80 CPS THERMAL PRINTER UNIT. 8K BYTE USER MEMORY, FULL ALPHANUMERIC KEYBOARD AND DISPLAY. £6431 EXC. VAT.
Olivetti
---
Testo tradotto:
Il computer del nuovo scienziato.
->continua->
---
Tag: