Descrizione del contenuto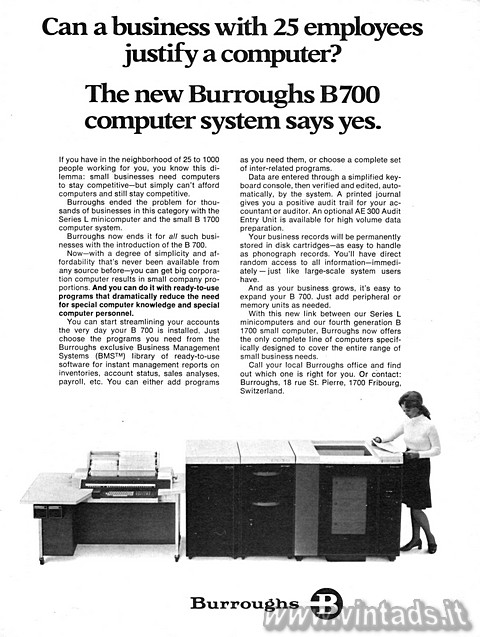 ---
Gradimento:





(0 voti)
---
Per scaricare questo contenuto devi fare login o registrarti
---
Commenti:
Non è presente alcun commento
Effettua il login per inserire un nuovo commento
Titolo:
Burroughs B700
---
Dimensione file:
810 KB (2378x3157 pixel)
---
Tipo del contenuto:
pagina di rivista o giornale
---
Fonte pubblicazione:
sconosciuta
---
Data della fonte:
1973
---
Linguaggio:
en (English)
---
Marca del contenuto:
Burroughs

&nbsp
---
Caricato da:
Pecoramatta
il 24-09-2016
---
Testo originale:
Can a business with 25 employees justify a computer?
The new Burroughs B700 computer system says yes.
If you have in the neighborhood of 25 to 1000 people working for you, you know this dilemma: small businesses need computers to stay competitive—but simply can't afford computers and still stay competitive.
Burroughs ended the problem for thousands of businesses in this category with the Series L minicomputer and the small B 1700 computer system.
Burroughs now ends it for all such businesses with the introduction of the B 700.
Now—with a degree of simplicity and affordability that's never been available from any source before-you can get big corporation computer results in small company proportions. And you can do it with ready-to-use programs that dramatically reduce the need for special computer knowledge and special computer personnel.
You can start streamlining your accounts the very day your B 700 is installed. Just choose the programs you need from the Burroughs exclusive Business Management Systems (BMS) library of ready-to-use software for instant management reports on inventories, account status, sales analyses, payroll, etc. You can either add programs as you need them, or choose a complete set of inter-related programs.
Data are entered through a simplified keyboard console, then verified and edited, automatically, by the system. A printed journal gives you a positive audit trail for your accountant or auditor. An optional AE 300 Audit Entry Unit is available for high volume data preparation.
Your business records will be permanently stored in disk cartridges—as easy to handle as phonograph records. You'll have direct random access to all information—immediately —just like large-scale system users have.
And as your business grows, it's easy to expand your B 700. Just add peripheral or memory units as needed.
With this new link between our Series L minicomputers and our fourth generation B 1700 small computer, Burroughs now offers the only complete line of computers specifcally designed to cover the entire range of small business needs.
Call your local Burroughs office and find out which one is right for you. Or contact: Burroughs, 18 rue St. Pierre, 1700 Fribourg, Switzerland.
---
Tag: