Descrizione del contenuto
(PDF MULTIPAGINA)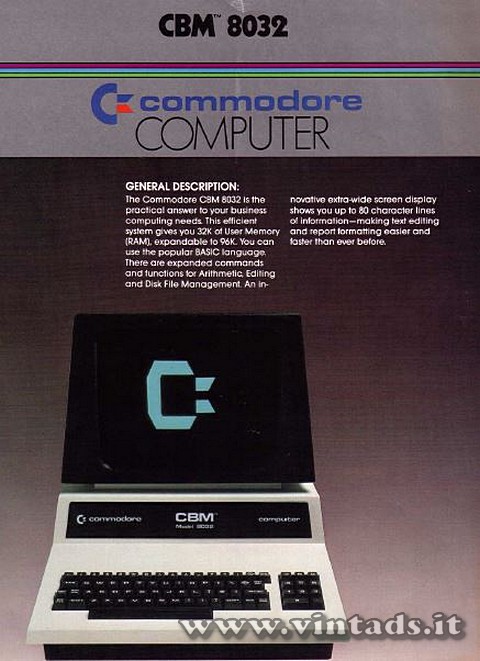 ---
---
Gradimento:





(0 voti)
---
Per scaricare questo contenuto devi fare login o registrarti
---
Commenti:
Non è presente alcun commento
Effettua il login per inserire un nuovo commento
Titolo:
Commodore computer CBM 8032
---
Dimensione file:
455 KB (2 pagine
PDF MULTIPAGINA
)
---
Tipo del contenuto:
brochure o inserto staccato
---
Data della fonte:
1983
---
Linguaggio:
en (English)
---
Marca del contenuto:
Commodore

&nbsp
---
Caricato da:
Maverich
il 21-09-2017
---
Vuoi provare lo strumento
nel nostro Museo?
---
Testo originale:
CBM 8032
Commodore COMPUTER
GENERAL DESCRIPTION:
The Commodore CBM 8032 is the practical answer to your business computing needs. This efficient system gives you 32K of User Memory (RAM), expandable to 96K. You can use the popular BASIC language.
There are expanded commands and functions for Arithmetic, Editing and Disk File Management. An innovative extra-wide screen display shows you up to 80 character lines of information—making text editing and report formatting easier and faster than ever before.
SPECIFICATIONS
FEATURES
• Basic 4.0
• IEEE-488 bus
• 80 column x 25 line screen size
•128 ASCII, plus 128 graphic characters
• Separate calculator numeric pad
• 18K of ROM
• Director (interactive) and program modes
• 9-digit floating binary arithmetic
SCREEN
2000 character display, organized into twenty-five 80 column lines
128 ASCII, 128 graphic characters
8 x 8 dot matrix characters
Green phosphor screen
Brightness control
Line spacing:
1½ in Text Mode
1 in Graphics Mode
KEYBOARD
73-key typewriter style keyboard with graphic capabilities
Repeat key functional with all keys
MEMORY
CBM 8032: 32K random access memory (RAM)
CBM 8096: 96K RAM
POWER REQUIREMENTS
Volts: 110V
Cycles: 60 Hz
Watts: 100
SCREEN EDITING CAPABILITIES
Full cursor control (up, down, right, left)
Character insert and delete
Reverse character fields
Overstriking
Return key sends entire line to CPU regardless of cursor position
INPUT/OUTPUT
Parallel port
IEEE-488 bus
2 cassette ports
Memory and I/O expansion connectors
FIRMWARE
18K of ROM contains:
BASIC (version 4.0) with direct (Interactive) and indirect (program) modes
9-digit floating binary arithmetic
Tape and disk file handling software
PHYSICAL SIZE
Height: 14"
Width: 16.5"
Depth: 18.5"
Shipping Weight: 50 lbs.
COMPATIBLE WITH
• Storage: C-1530; CBM 2031; CBM 4040; CBM 8250; CBM 8050; D 9060; D 9090
• Printers: CBM 4022; CBM 4023; CBM 6400; CBM 8023; CBM 8300
Commodore COMPUTER
1200 Wilson Rd., Westchester, PA 19380
3370 Pharmacy Ave., Agincourt, Ontario, Canada, M1W 2K4
COPYRIGHT COMMODORE ELECTRONICS LTD, 1983
---
Tag: