Descrizione del contenuto
(PDF MULTIPAGINA)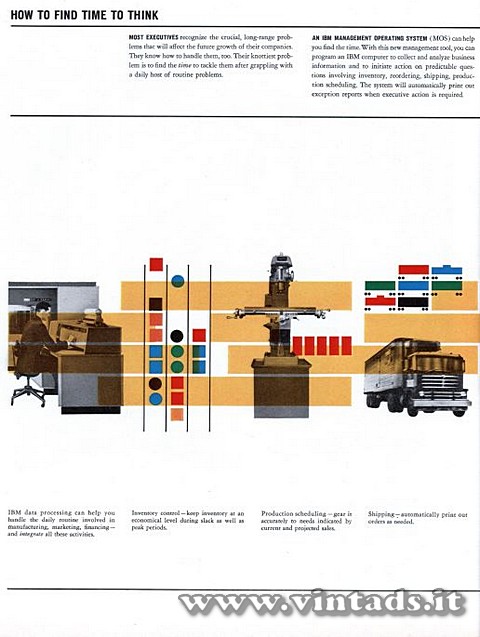 ---
---
Gradimento:





(1 voti)
---
Per scaricare questo contenuto devi fare login o registrarti
---
Commenti:
Non è presente alcun commento
Effettua il login per inserire un nuovo commento
Titolo:
How to find time to think
---
Dimensione file:
2,6 MB (2 pagine
PDF MULTIPAGINA
)
---
Tipo del contenuto:
pagina di rivista o giornale
---
Fonte pubblicazione:
Fortune
---
Data della fonte:
October 1961
---
Linguaggio:
en (English)
---
Marca del contenuto:
Ibm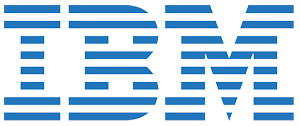 &nbsp
---
Caricato da:
Maverich
il 13-11-2017
---
Testo originale:
HOW TO FIND TIME TO THINK
MOST EXECUTIVES recognize the crucial, long-range problems that will affect the future growth of their companies. They know how to handle them, too. Their knottiest problem is to find the time to tackle them after grappling with a daily host of routine problems.
AN IBM MANAGEMENT OPERATING SYSTEM (MOS) can help you find the time. With this new management tool, you can program an IBM computer to collect and analyze business information and to initiate action on predictable questions involving inventory, reordering, shipping, production scheduling. The system will automatically print out exception reports when executive action is required.
BY GIVING YOU SUCCINCT REPORTS, based on up-to-the-minute facts, MOS helps you gear production more closely to sales… to purchase more efficiently… to expedite shipping … to evaluate performance of any department, division, plant or office in your company.
YOU DON'T HAVE TO GO ALL THE WAY with computer management control, all at once. IBM's broad line of equipment lets you start with a modest system and expand it as your need grows. The Surgical Products Division of American Cyanamid, Clark Equipment Company, Cramer Controls Corporation, American Bosch Arma Corporation are among the companies that are solving problems with the help of IBM Management Operating Systems.
IBM data processing can help you handle the daily routine involved in manufacturing, marketing, financing — and integrate all these activities.
Inventory control —keep inventory at an economical level during slack as well as peak periods.
Production scheduling — gear it accurately to needs indicated by current and projected sales.
Shipping —automatically print out orders as needed.
IBM DATA PROCESSING
---
Tag: