Descrizione del contenuto
(TIFF MULTIPAGINA)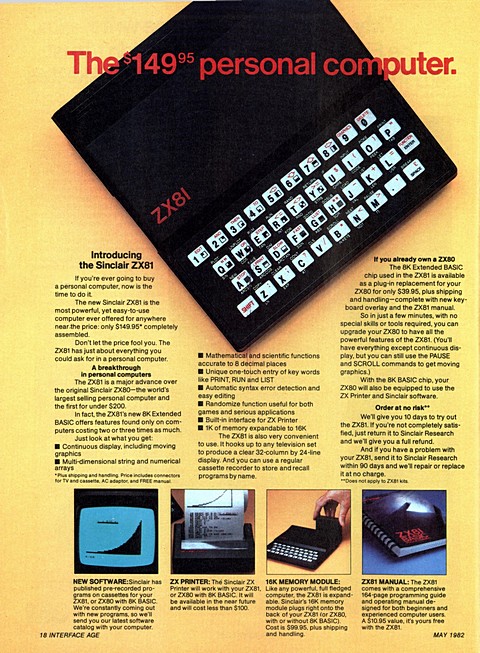 ---
---
Gradimento:





(1 voti)
---
Per scaricare questo contenuto devi fare login o registrarti
---
Commenti:
Non è presente alcun commento
Effettua il login per inserire un nuovo commento
Titolo:
The $149.95 personal computer.
---
Dimensione file:
2,5 MB (2364x3217 pixel
TIFF MULTIPAGINA
)
---
Tipo del contenuto:
pagina di rivista o giornale
---
Fonte pubblicazione:
Interface age
---
Data della fonte:
May 1982
---
Linguaggio:
en (English)
---
Marca del contenuto:
Sinclair

&nbsp
---
Caricato da:
Superman
il 09-06-2013
---
Testo originale:
The $149.95 personal computer.
Introducing the Sinclair ZX81
If you're ever going to buy a personal computer, now is the time to do it.
The new Sinclair ZX81 is the most powerful, yet easy-to-use computer ever offered for anywhere near the price: only $149.95* completely assembled.
Don't let the price fool you. The ZX81 has just about everything you could ask for in a personal computer.
A breakthrough in personal computers
The ZX81 is a major advance over the original Sinclair ZX80—the world's largest selling personal computer and the first for under $200. In fact, the ZX81′s new 8K Extended BASIC offers features found only on computers costing two or three times as much.
Just look at what you get:
* Continuous display, including moving graphics.
* Multi-dimensional string and numerical arrays.
* Mathematical and scientific functions accurate to 8 decimal places.
* Unique one-touch entry of key words like PRINT, RUN and LIST.
* Automatic syntax error detection and easy editing.
* Randomize function useful for both games and serious applications.
* Built-in interface for ZX Printer.
* 1K of memory expandable to 16K.
The ZX81 is also very convenient to use. It hooks up to any television set to produce a clear 32-column by 24-line display. And you can use a regular cassette recorder to store and recall programs by name.
If you already own a ZX80
The 8K Extended BASIC chip used in the ZX81 is available as a plug-in replacement for your ZX80 for only $39.95, plus shipping and handling—complete with new key board overlay and the ZX81 manual.
So in just a few minutes, with no special skills or tools required, you can upgrade your ZX80 to have all the powerful features of the ZX81. (You'll have everything except continuous display, but you can still use the PAUSE and SCROLL commands to get moving graphics.) With the 8K BASIC chip, your ZX80 will also be equipped to use the ZX Printer and Sinclair software.
Order at no risk**.
We'll give you 10 days to try out the ZX81. If you're not completely satisfied, just return it to Sinclair Research and we'll give you a full refund.
And if you have a problem with your ZX81, send it to Sinclair Research within 90 days and we'll repair or replace it at no charge.
NEW SOFTWARE: Sinclair has published pre-recorded programs on cassettes for your ZX81, or ZX80 with 8K BASIC. We're constantly coming out with new programs, so we'll send you our latest software catalog with your computer.
ZX PRINTER: The Sinclair ZX Printer will work with your ZX81, or ZX80 with 8K BASIC. It will be available in the near future and will cost less than $100.
16K MEMORY MODULE: Like any powerful, full fledged computer, the ZX81 is expandable. Sinclair's 16K memory module plugs right onto the back of your ZX81 (or ZX80, with or without 8K BASIC). Cost is $99.95. plus shipping and handling.
ZX81 MANUAL: The ZX81 comes with a comprehensive 164-page programming guide and operating manual designed for both beginners and experienced computer users. A 510.95 value, it's yours free with the ZX81.
The $99.95 personal computer.
Introducing the ZX81 kit
If you really want to save money, and you enjoy building electronic kits, you can order the ZX81 in kit form for the incredible price of just $99.95* It's the same, full-featured computer, only you put it together yourself. We'll send complete, easy-to-follow instructions on how you can assemble your ZX81 in just a few hours. All you have to supply is the soldering iron*
How to order.
Sinclair Research is the world's largest manufacturer of personal computers. The ZX81 represents the latest technology in microelectronics, and it picks up right where the ZX80 left off. Thousands are selling every week.
We urge you to place your order for the new ZX81 today. The sooner you order, the sooner you can start enjoying your own computer.
To order, simply call our toll free number, and use your MasterCard or VISA. To order by mail, please use the coupon. And send your check or money order. We regret that we cannot accept purchase orders or C.O.D's.
CALL 800-543-3000. Ask for operator #509. In Ohio call 800-582-1364. In Canada call 513-729-4300. Ask for operator #509. Phones open 24 hours a day, 7 days a week. Have your MasterCard or VISA ready. These numbers are for orders only. For information, you must write to Sinclair Research Ltd., 2 Sinclair Plaza, Nashua, NH 03061.
Sinclair
*Plus shipping and handling. Price includes connectors for TV and cassette, AC adaptor, and FREE manual.
**Does not apply to ZX81 kits
---
Tag: