Descrizione del contenuto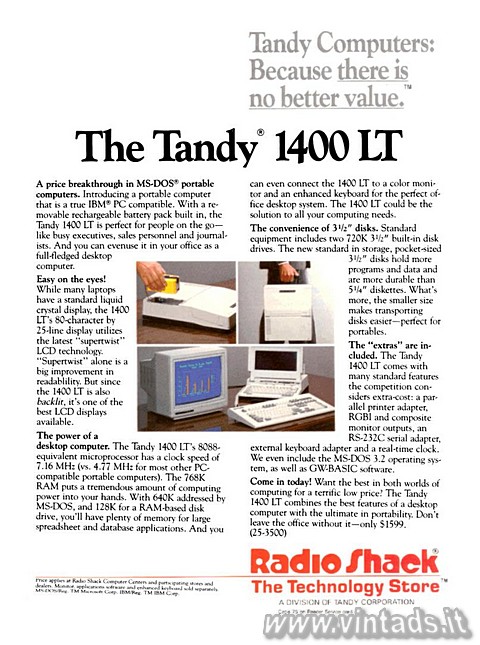 ---
Gradimento:





(1 voti)
---
Per scaricare questo contenuto devi fare login o registrarti
---
Commenti:
Non è presente alcun commento
Effettua il login per inserire un nuovo commento
Titolo:
The Tandy 1400 LT
---
Dimensione file:
157 KB (806x1083 pixel)
---
Tipo del contenuto:
pagina di rivista o giornale
---
Fonte pubblicazione:
80 Microcomputing Magazine
---
Data della fonte:
March 1988
---
Linguaggio:
en (English)
---
Marca del contenuto:
Tandy Radio Shack

&nbsp
---
Caricato da:
Spock
il 02-09-2019
---
Testo originale:
Tandy Computers: Because there is no better value.
The Tandy® 1400 LT
A price breakthrough in MS-DOS® portable computers. Introducing a portable computer that is a true IBM® PC compatible. With a removable rechargeable battery pack built in, The Tandy® 1400 LT is perfect for people on the go—like busy executives, sales personnel and journalists. And you can even use it in your office as a full-fledged desktop computer.
Easy on the eyes! While many laptops have a standard liquid crystal display the 1400 LT's 80-character by 25-line, display utilizes the latest "supertwist" LCD technology. "Supertwist" alone is a big improvement in readablility. But since the 1400 LT is also backlit, it's one of the best LCD displays available.
The power of a desktop computer. The Tandy 1400 LT's 8088- equivalent microprocessor has a clock speed of 7.16 MHz (vs.4.77 MHz for most other PC-compatible portable computers). The 768K RAM puts a tremendous amount of computing power into your hands. With 640K addressed by MS-DOS, and 128K for a RAM-based disk drive, you'll have plenty of memory, for large spreadsheet and database applications. And you can even connect the 1400 LT to a color monitor and an enhanced keyboard for the perfect office desktop system. The 1400 LT could be the solution to all your computing needs.
The convenience of 3½" disks. Standard equipment includes two 720K 31/2" built-in disk drives. The new standard in storage, pocket-sized 3½" disks hold more programs and data and are more durable than 5¼" diskettes. What's more, the smaller size makes transporting disks easier-perfect for portables.
The "extras" are included. The Tandy 1400 LT comes with many standard features the competition considers extra-cost: a parallel printer adapter, RGBI and composite monitor outputs, an RS-232C serial adapter, external keyboard adapter and a real-time clock. We even include the MS-DOS 3.2 operating system, as well GW-BASIC software.
Come in today! Want the best in both worlds of computing for terrific low price? The Tandy 1400 LT combines the best features of a desk, computer with the ultimate in portability. Don't leave the office without it-only $1599.
(25-3500)
RADIO SHACK
The Technology Store®
A DIVISION OF TANDY CORPORATION
---
Tag: