Appreciate Tandy TRS-80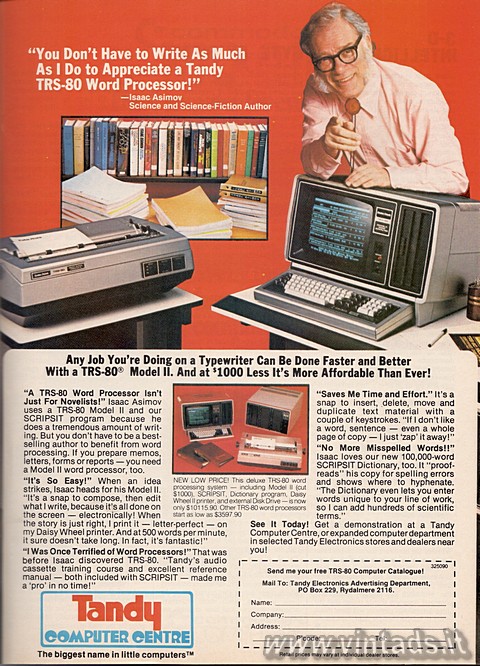 ---
Gradimento:





(0 voti)
---
Per scaricare questo contenuto devi fare login o registrarti
---
Commenti:
Non è presente alcun commento
Effettua il login per inserire un nuovo commento
---
Titolo:
Appreciate Tandy TRS-80
---
Dimensione file:
2,1 MB (1555x2157 pixel)
---
Tipo del contenuto:
pagina di rivista o giornale
---
Fonte pubblicazione:
sconosciuta
---
Data della fonte:
1982
---
Linguaggio:
en (English)
---
Marca del contenuto:
Tandy Radio Shack

&nbsp
---
Caricato da:
darkLady
il 02-09-2019
---
---
Testo originale:
"You Don't Have to Write As Much As I Do to Appreciate a Tandy TRS-80 Word Processor!"
—Isaac Asimov
Science and Science-Fiction Author
Any Job You're Doing on a Typewriter Can Be Done Faster and Better
With a TRS-80® Model II. And at $1000 Less It's More Affordable Than Ever!
"A TRS-80 Word Processor Isn't Just For Novelists!"
Isaac Asimov uses a TRS-80 Model II and our SCRIPSIT program because he does a tremendous amount of writing. But you don't have to be a best-selling author to benefit from word processing. If you prepare memos, letters, forms or reports — you need a Model II word processor, too.
"It's So Easy!"
When an idea strikes, Isaac heads for his Model II.
"It's a snap to compose, then edit what I write, because it's all done on the screen — electronically! When the story is just right, I print it — letter-perfect — on my Daisy Wheel printer. And at 500 words per minute, it sure doesn't take long. In fact, it's fantastic!"
"I Was Once Terrified of Word Processors!"
That was before Isaac discovered TRS-80. "Tandy's audio cassette training course and excellent reference manual — both included with SCRIPSIT — made me a 'pro' in no time!"
"Saves Me Time and Effort."
It's a snap to insert, delete, move and duplicate text material with a couple of keystrokes. "If I don't like a word, sentence — even a whole page of copy — I just 'zap' it away!"
"No More Misspelled Words!!"
Isaac loves our new 100,000-word SCRIPSIT Dictionary, too. It "proof-reads" his copy for spelling errors and shows where to hyphenate.
"The Dictionary even lets you enter words unique to your line of work, so I can add hundreds of scientific terms."
See It Today! Get a demonstration at a Tandy Computer Centre, or expanded computer department in selected Tandy Electronics stores and dealers near you!
TANDY COMPUTER CENTRE
The biggest name in little computers
---
Testo tradotto:
"Non c'è bisogno di scrivere quanto faccio io per apprezzare l'elaboratore di testi del Tandy TRS-80!"
-Isaac Asimov
Scrittore di scienza e fantascienza
Qualsiasi lavoro che stai facendo su una macchina da scrivere può essere fatto meglio e più velocemente con un TRS-80 Model II ®. E con $1000 in meno il prezzo è più conveniente che mai!
"Un elaboratore di testi TRS-80 non è solo per scrittori! "
Isaac Asimov utilizza un TRS-80 Model II ed il nostro programma SCRIPSIT perché scrive una quantità enorme di testo. Ma non c'è bisogno di essere un autore di best-seller per beneficiare di un elaboratore di testi.
Se si preparano promemoria, lettere, maschere e report – anche tu hai bisogno dell'elaboratore di testi del TRS-80 Model II.
->continua->
---
Tag: