Descrizione del contenuto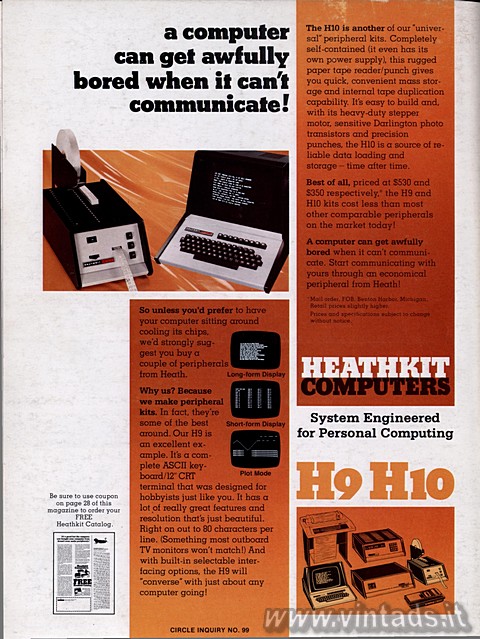 ---
Gradimento:





(0 voti)
---
Per scaricare questo contenuto devi fare login o registrarti
---
Commenti:
Non è presente alcun commento
Effettua il login per inserire un nuovo commento
Titolo:
A computer can get awfully bored...
---
Dimensione file:
1,1 MB (2442x3251 pixel)
---
Tipo del contenuto:
pagina di rivista o giornale
---
Fonte pubblicazione:
Interface Age
---
Data della fonte:
April 1978
---
Linguaggio:
en (English)
---
Marca del contenuto:
Heath Company

&nbsp
---
Caricato da:
darkLady
il 02-09-2019
---
Testo originale:
a computer can get awfully bored when it can't communicate!
So unless you'd prefer to have your computer sitting around cooling its chips, we'd strongly suggest you buy a couple of peripherals from Heath.
Why us? Because we make peripheral kits. In fact, they're some of the best around. Our H9 is an excellent example. It's a complete ASCII keyboard/12″ CRT terminal that was designed for hobbyists just like you. It has a lot of really great features and resolution that's just beautiful. Right on out to 80 characters per line. (Something most outboard TV monitors won't match!) And with built-in selectable interfacing options, the H9 will "converse" with just about any computer going!
The H10 is another of our "universal" peripheral kits. Completely self-contained (it even has its own power supply), this rugged paper tape reader/punch gives you quick, convenient mass storage and internal tape duplicator capability It's easy to build and, with its heavy-duty stepper motor, sensitive Darlington photo transistors and precision punches, the H10 is a source of re liable data loading and storage – time after time.
Best of all, priced at $530 and $350 respectively,* the H9 and H10 kits cost less than most other comparable peripherals on the market today!
A computer can get awfully bored when it can't communicate. Start communicating with yours through an economical peripheral from Heath!
Mail order, FOB. Benton Harbor, Michigan, Retail prices slightly higher.
Prices and specifications subject to change without notice.
HEATHKIT COMPUTERS
System Engineered for Personal Computing
---
Tag: