Descrizione del contenuto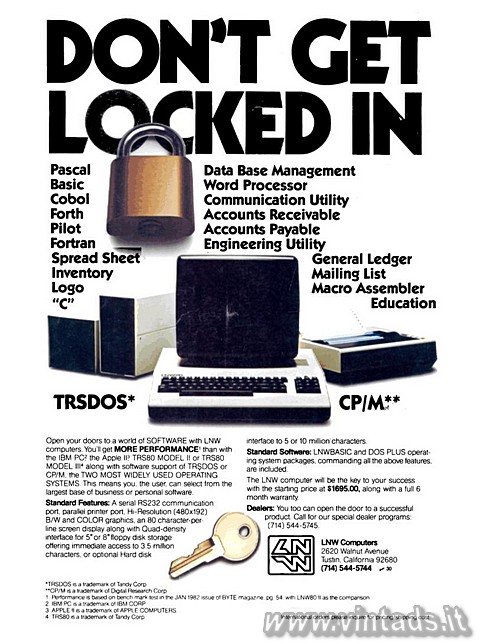 ---
Gradimento:





(1 voti)
---
Per scaricare questo contenuto devi fare login o registrarti
---
Commenti:
Non è presente alcun commento
Effettua il login per inserire un nuovo commento
Titolo:
Don't get locked in
---
Dimensione file:
143 KB (813x1089 pixel)
---
Tipo del contenuto:
pagina di rivista o giornale
---
Fonte pubblicazione:
80 Microcomputing Magazine
---
Data della fonte:
May 1983
---
Linguaggio:
en (English)
---
Marca del contenuto:
Lnw
&nbsp
---
Caricato da:
Maverich
il 21-09-2019
---
Testo originale:
DON'T GET LOCKED IN
Pascal
Basic
Cobol
Forth
Pilot
Fortran
Spread Sheet
Inventory
Logo
"C"
Data Base Management
Word Processor
Communication Utility
Accounts Receivable
Accounts Payable
Engineering Utility
General Ledger,
Mailing list
Macro Assembler
Education
Open your doors to a world of SOFTWARE with LNW computers. You'll get MORE PERFORMANCE than with the IBM PC, the Apple II, TRS80 MODEL II or TRS80 MODEL III along with software support of TRSDOS or CP/M, the TWO MOST WIDELY USED OPERATING SYSTEMS.
This means you, the user, can select from the largest base of business or personal software.
Standard Features: A serial RS232 communication Port, parallel printer port, Hi-Resolution (480x192) B/W and COLOR graphics, an 80 character-per-line screen display along with Quad-density interface for 5"or 8" floppy disk storage offering Immediate access to 3.5 million characters, or optional Hard disk interface to 5 or 10 million characters.
Standard Software: LNWBASIC and DOS PLUS operating system packages, commanding all the above features, are included.
The LNW computer will be the key to your success with the starting price at $1695.00, along with a full 6 month warranty.
Dealers: you too can open the door to a successful product. Call for our special dealer programs: (714) 544.5745
LNW Computers
2620 Walnut Avenue Tustin California 92680
---
Tag: