The best buy in desktop computers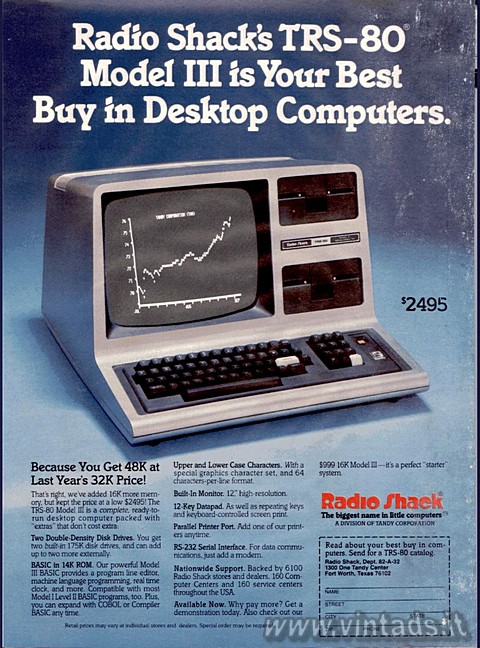 ---
Gradimento:





(0 voti)
---
Per scaricare questo contenuto devi fare login o registrarti
---
Commenti:
Non è presente alcun commento
Effettua il login per inserire un nuovo commento
---
Titolo:
The best buy in desktop computers
---
Dimensione file:
163 KB (800x1080 pixel)
---
Tipo del contenuto:
pagina di rivista o giornale
---
Fonte pubblicazione:
80 Microcomputing Magazine
---
Data della fonte:
September 1981
---
Linguaggio:
en (English)
---
Marca del contenuto:
Tandy Radio Shack

&nbsp
---
Caricato da:
Maverich
il 21-09-2019
---
Testo originale:
Radio Shack's TRS-80
Model III is your Best Buy in Desktop Computers.
Because You Get 48K at Last Year's 32K Price!
That's right, we've added 16K more memory, but kept the price at a low $52495! The TRS-80 Model III is a complete, ready-to run desktop computer packed with "extras" that don't cost extra:
Two Double-Density Disk Drives. You get two built-in 175K disk drives, and can add up to two more externally.
BASIC in 14K ROM. Our powerful Model III BASIC provides a program line editor, machine language programming, real time clock, and more. Compatible with most Model Level II BASIC programs, too. Plus, you can expand with COBOL or Compiler BASIC any time.
Upper and Lower Case Characters. Whit a special graphics character set, and 64 characters-per-line format.
Built-In Monitor. 12" high-resolution.
12-Key Datapad. As well as repeating keys and keyboard-controlled screen print.
Parallel Printer Port. Add one of our printers anytime.
RS-232 Serial interface. For data communications just add a modem.
Nationwide Support. Backed by 6100 Radio Shack stores and dealers. 160 Computer Centers and 160 service centers throughout the USA.
Available Now. Why pay more? Get a demonstration today. Also check out our $999 16K Model III - it's a perfect "starter" system.
RADIO SHACK
the biggest name in little computers
a division of tandy corporation
---
Tag: