Descrizione del contenuto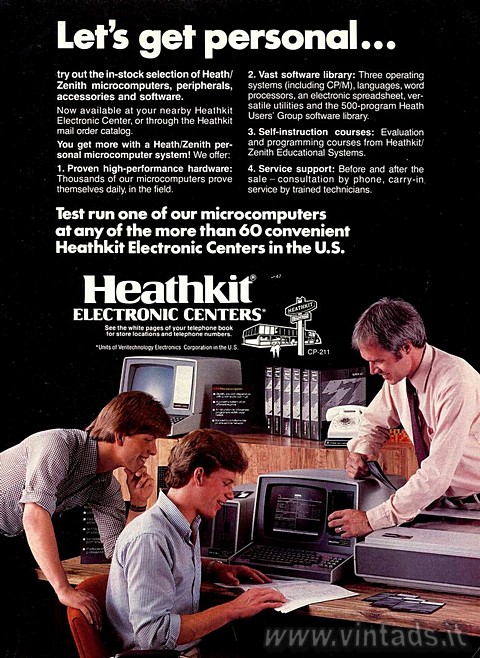 ---
Gradimento:





(0 voti)
---
Per scaricare questo contenuto devi fare login o registrarti
---
Commenti:
Non è presente alcun commento
Effettua il login per inserire un nuovo commento
Titolo:
Let's get personal
---
Dimensione file:
178 KB (778x1067 pixel)
---
Tipo del contenuto:
pagina di rivista o giornale
---
Fonte pubblicazione:
80 Microcomputing Magazine
---
Data della fonte:
1983
---
Linguaggio:
en (English)
---
Marca del contenuto:
Heath Company
,
Zenith

&nbsp

&nbsp
---
Caricato da:
Maverich
il 21-09-2019
---
Testo originale:
Let's get personal...
try out the in-stock selection of heath/zenith microcomputers, peripherals, accessories and software.
now available at your nearby Heathkit Electronic Center, or through the Heathkit mail order catalog.
you get more with a Heath/zenith personal microcomputer system ! We offer:
1. Proven high-performance hardware: Thousands of our microcomputers prove themselves daily, in the field.
2. Vast software library: Three operating systems (including CP/M), languages, word processors, an electronic spreadsheet, versatile utilities and the 500-program Heath Users Group software library
3.Self-instruction courses : Evaluation and programming courses from Heathkit/Zenith Educational Systems.
4. Service support: Before and after the sale - consultation by phone, carry-in service by trained technicians.
Test run one of our microcomputers at any of the more than 60 convenient Heathkit Electronic Centers in the U.S.
Heathkit ELECTRONIC CENTERS"
See the white pages of your telephone book for store locations and telephone numbers.
---
Tag: