Descrizione del contenuto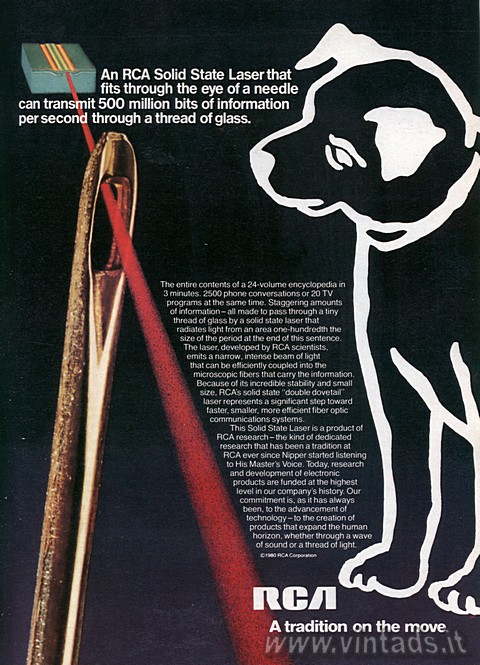 ---
Gradimento:





(1 voti)
---
Per scaricare questo contenuto devi fare login o registrarti
---
Commenti:
Non è presente alcun commento
Effettua il login per inserire un nuovo commento
Titolo:
RCA solid state laser
---
Dimensione file:
1,4 MB (2432x3369 pixel)
---
Tipo del contenuto:
pagina di rivista o giornale
---
Fonte pubblicazione:
sconosciuta
---
Data della fonte:
1980
---
Linguaggio:
en (English)
---
Marca del contenuto:
Rca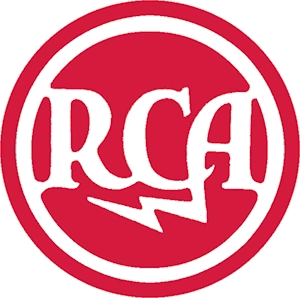 &nbsp
---
Caricato da:
Maverich
il 02-11-2019
---
Testo originale:
An RCA Solid State Laser that fits through the eye of a needle can transmit 500 million bits of information per second through a thread of glass.
The entire contents of a 24-volume encyclopedia in 3 minutes. 2500 phone conversations or 20 TV programs at the same time. Staggering amounts of information – all made to pass through a tiny thread of glass by a solid state laser that radiates light from an area one-hundredth the size of the period at the end of this sentence. The laser, developed by RCA scientists, emits a narrow, intense beam of light that can be efficiently coupled into the microscopic fibers that carry the information. Because of its incredible stability and small size, RCA's solid state "double dovetail" laser represents a significant step toward faster, smaller, more efficient fiber optic communications systems.
This Solid State Laser is a product of RCA research – the kind of dedicated research that has been a tradition at RCA ever since Nipper started listening to His Masters Voice. Today, research and development of electronic products are funded at the highest level in our company's history. Our commitment is, as it has always been, to the advancement of technology-to the creation of products that expand the human horizon, whether through a wave of sound or a thread of light.
RCA
A tradition on the move
---
Tag: