Descrizione del contenuto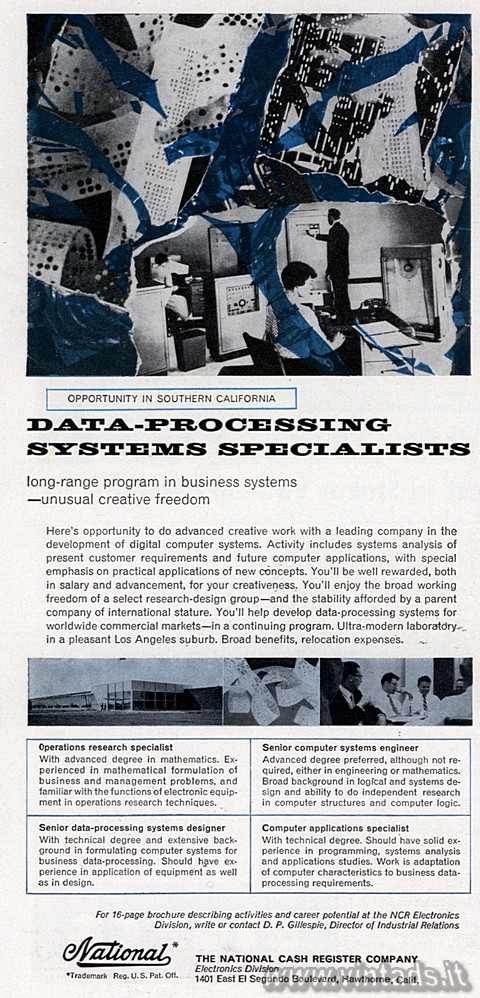 ---
Gradimento:





(0 voti)
---
Per scaricare questo contenuto devi fare login o registrarti
---
Commenti:
Non è presente alcun commento
Effettua il login per inserire un nuovo commento
Titolo:
National Data-Processing
---
Dimensione file:
1.010 KB (1483x3082 pixel)
---
Tipo del contenuto:
pagina di rivista o giornale
---
Fonte pubblicazione:
Scientific American
---
Data della fonte:
November 1956
---
Linguaggio:
en (English)
---
Marca del contenuto:
National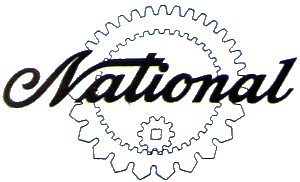 &nbsp
---
Caricato da:
Maverich
il 02-11-2019
---
Testo originale:
OPPORTUNITY IN SOUTHERN CALIFORNIA
DATA-PROCESSING SYSTEMS SPECIALISTS
long-range program in business systems —unusual creative freedom
Here's opportunity to do advanced creative work with a leading company in the development of digital computer systems. Activity includes systems analysis of present customer requirements and future computer applications, with special emphasis on practical applications of new concepts. You'll be well rewarded, both in salary and advancement, for your creativeness. You'll enjoy the broad working freedom of a select research-design group—and the stability afforded by a parent company of international stature. You'll help develop data-processing systems for worldwide commercial markets—in a continuing program. Ultra-modern laboratory in a pleasant Los Angeles suburb. Broad benefits, relocation expenses.
Operations research specialist
With advanced degree in mathematics. Experienced in mathematical formulation of business and management problems, and familiar with the functions of electronic equipment in operations research techniques.
Senior data-processing systems designer
With technical degree and extensive background in formulating computer systems for business data-processing. Should have experience in application of equipment as well as in design.
Senior computer systems engineer
Advanced degree preferred, although not required, either in engineering or mathematics. Broad background in logical and systems design and ability to do independent research in computer structures and computer logic.
Computer applications specialist
With technical degree. Should have solid experience in programming, systems analysis and applications studies. Work is adaptation of computer characteristics to business data-processing requirements.
For 16-page brochure describing activities and career potential at the NCR Electronics Division, write or contact D. P. Gillespie, Director of Industrial Relations
THE NATIONAL CASH REGISTER COMPANY Electronics Division
1401 East EI Segundo Boulevard. Hawthorne. Calif.
---
Tag: