Descrizione del contenuto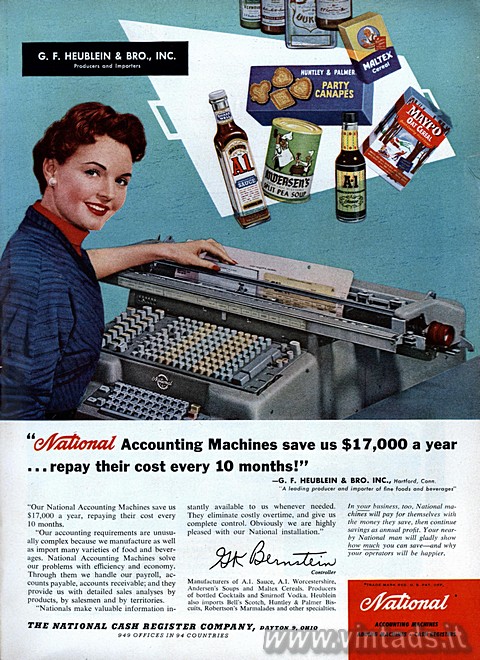 ---
Gradimento:





(0 voti)
---
Per scaricare questo contenuto devi fare login o registrarti
---
Commenti:
Non è presente alcun commento
Effettua il login per inserire un nuovo commento
Titolo:
National accounting machines
---
Dimensione file:
1,5 MB (2412x3319 pixel)
---
Tipo del contenuto:
pagina di rivista o giornale
---
Fonte pubblicazione:
Time
---
Data della fonte:
March 1955
---
Linguaggio:
en (English)
---
Marca del contenuto:
National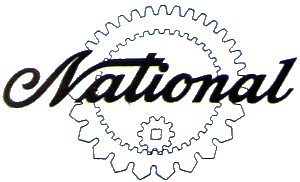 &nbsp
---
Caricato da:
Maverich
il 02-11-2019
---
Testo originale:
"National Accounting Machines save us $17,000 a year … repay their cost every 10 months!"
-G. F. HEUBLEIN & BRO. INC., Hartford, Conn.
"A leading producer and importer of fine foods and beverages"
"Our National Accounting Machines save us $17,000 a year, repaying their cost every 10 months.
"Our accounting requirements are unusually complex because we manufacture as well as import many varieties of food and beverages. National Accounting Machines solve our problems with efficiency and economy. Through them we handle our payroll, accounts payable, accounts receivable; and they provide us with detailed sales analyses by products, by salesmen and by territories.
"Nationals make valuable information instantly available to us whenever needed. They eliminate costly overtime, and give us complete control. Obviously we are highly pleased with our National installation."
Manufacturers of A.1. Sauce, A.1. Worcestershire, Andersen's Soups and Maltex Cereals. Producers of bottled Cocktails and Smirnoff Vodka. Heublein also imports Bell's Scotch, Huntley & Palmer Biscuits, Robertson's Marmalades and other specialties.
In your business, too, National machines will pay for themselves with the money they save, then continue savings as annual profit. Your nearby National man will gladly show how much you can save—and why your operators will be happier.
THE NATIONAL CASH REGISTER COMPANY, DAYTON 9, OHIO
949 OFFICES IN 94 COUNTRIES
NATIONAL
ACCOUNTING MACHINES
ADDING MACHINES
CASH REGISTERS
---
Testo tradotto:
"Le macchine contabili National ci fanno risparmiare 17 mila dollari l'anno... ripagando il loro costo ogni 10 mesi!"
-G. F. Heublein & BRO. INC, Hartford, Conn
Primario produttore e importatore di cibi raffinati e bevande
---
Tag: