Descrizione del contenuto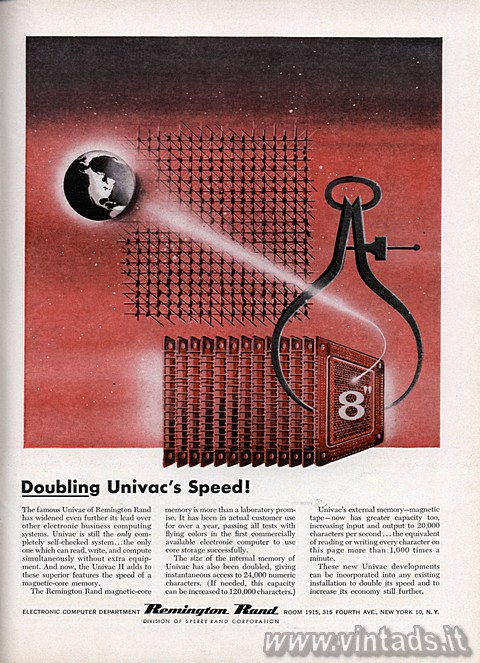 ---
Gradimento:





(1 voti)
---
Per scaricare questo contenuto devi fare login o registrarti
---
Commenti:
Non è presente alcun commento
Effettua il login per inserire un nuovo commento
Titolo:
Doubling Univac's speed!
---
Dimensione file:
2,0 MB (2469x3410 pixel)
---
Tipo del contenuto:
pagina di rivista o giornale
---
Fonte pubblicazione:
Scientific American
---
Data della fonte:
1955-09
---
Linguaggio:
en (English)
---
Marca del contenuto:
Univac
,
Remington Rand

&nbsp
&nbsp
---
Caricato da:
Maverich
il 06-11-2019
---
Testo originale:
Doubling Univac's Speed!
The famous Univac of Remington Rand has widened even further its lead over other electronic business computing systems. Univac is still the only completely self-checked system… the only one which can read, write, and compute simultaneously without extra equipment. And now, the Univac II adds to these superior features the speed of a magnetic-core memory.
The Remington Rand magnetic-core memory is more than a laboratory promise. It has been in actual customer use for over a year, passing all tests with flying colors in the first commercially available electronic computer to use core storage successfully.
The size of the internal memory of Univac has also been doubled, giving instantaneous access to 24,000 numeric characters. (If needed, this capacity can be increased to 120,000 characters.) Univac's external memory-magnetic tape-now has greater capacity too, increasing input and output to 20,000 characters per second… the equivalent of reading or writing every character on this page more than 1,000 times a minute.
These new Univac developments can be incorporated into any existing installation to double its speed and to increase its economy still further.
Remington Rand
ELECTRONIC COMPUTER DEPARTMENT
DIVISION OF SPERRY RAND CORPORATION
ROOM 1915, 315 FOURTH AVE., NEW YORK 10, N. Y.
---
Testo tradotto:
Raddoppiata la velocità Univac!
Il famoso Univac di Remington Rand ha ampliato ulteriormente il suo vantaggio su altri sistemi elettronici di calcolo aziendali. Univac è ancora l'unico sistema completamente auto-controllato... l'unico che può leggere, scrivere e calcolare contemporaneamente senza equipaggiamento extra. E ora, Univac II aggiunge a queste caratteristiche superiori la velocità della memoria a nuclei magnetici.
---
Tag:
univac,univac ii,remington rand