Descrizione del contenuto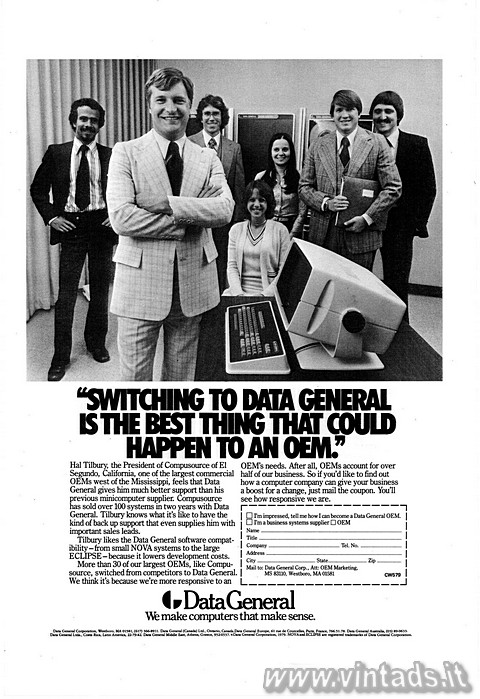 ---
Gradimento:





(1 voti)
---
Per scaricare questo contenuto devi fare login o registrarti
---
Commenti:
Non è presente alcun commento
Effettua il login per inserire un nuovo commento
Titolo:
Switching to Data General
---
Dimensione file:
479 KB (1280x1865 pixel)
---
Tipo del contenuto:
pagina di rivista o giornale
---
Fonte pubblicazione:
Computerworld
---
Data della fonte:
7 May 1979
---
Linguaggio:
en (English)
---
Marca del contenuto:
Data General

&nbsp
---
Caricato da:
Maverich
il 14-11-2019
---
Testo originale:
"SWITCHING TO DATA GENERAL IS THE BEST THING THAT COULD HAPPEN TO AN OEM."
Hal Tilbury, the President of Compusource of El Segundo, California, one of the largest commercial OEMs west of the Mississippi, feels that Data General gives him much better support than his previous minicomputer supplier.
Compusource has sold over 100 systems in two years with Data General.
Tilbury knows what it's like to have the kind of back up support that even supplies him with important sales leads.
Tilbury likes the Data General software compatibility-from small NOVA systems to the large ECLIPSE-because it lowers development costs.
More than 30 of our largest OEMs, like Compusource, switched from competitors to Data General.
We think it's because we're more responsive to an OEM's needs.
After all, OEMs account for over half of our business.
So if you'd like to find out how a computer company can give your business a boost for a change, just mail the coupon.
You'll see how responsive we are.
Data General
We make computers that make sense.
---
Tag: