Descrizione del contenuto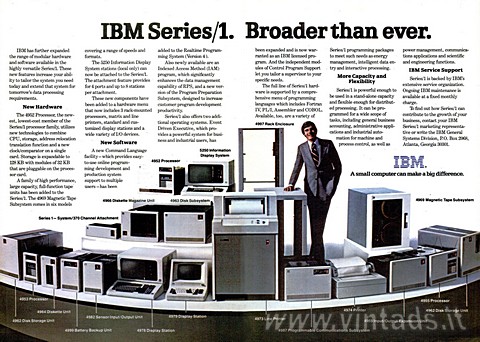 ---
Gradimento:





(0 voti)
---
Per scaricare questo contenuto devi fare login o registrarti
---
Commenti:
Non è presente alcun commento
Effettua il login per inserire un nuovo commento
Titolo:
IBM Series/1. Broader than ever.
---
Dimensione file:
1,2 MB (2579x1839 pixel)
---
Tipo del contenuto:
pagina di rivista o giornale
---
Fonte pubblicazione:
Computerworld
---
Data della fonte:
7 May 1979
---
Linguaggio:
en (English)
---
Marca del contenuto:
Ibm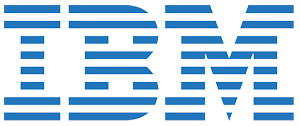 &nbsp
---
Caricato da:
Maverich
il 14-11-2019
---
Testo originale:
IBM Series/1. Broader than ever.
IBM has further expanded the range of modular hardware and software available in the highly versatile Series/1.
These new features increase your ability to tailor the system you need today and extend that system for tomorrow's data processing requirements.
New Hardware
The 4952 Processor, the newest, lowest-cost member of the Series/1 processor family, utilizes new technologies to combine CPU, storage, address relocation translation function and a new clock/comparator on a single card.
Storage is expandable to 128 KB with modules of 32 KB that are pluggable on the processor card.
A family of high performance, large capacity, full-function tape units has been added to the Series/1.
The 4969 Magnetic Tape Subsystem comes in six models covering a range of speeds and formats.
The 5250 Information Display System stations (local only) can now be attached to the Series/1.
The attachment feature provides for 4 ports and up to 8 stations per attachment.
These new components have been added to a hardware menu that now includes 3 rack-mounted processors, matrix and line printers, standard and customized display stations and a wide variety of I/O devices.
New Software
A new Command Language facility — which provides easy-to-use online programming development and production system support to multiple users — has been added to the Realtime Programming System (Version 4).
Also newly available are an Indexed Access Method (IAM) program, which significantly enhances the data management capability of RPS, and a new version of the Program Preparation Subsystem, designed to increase customer program development productivity.
Series/1 also offers two additional operating systems. Event Driven Executive, which provides a powerful system for business and industrial users, has been expanded and is now warranted as an IBM licensed program.
And the independent modules of Control Program Support let you tailor a supervisor to your specific needs.
The full line of Series/1 hardware is supported by a comprehensive menu of programming languages which includes Fortran IV, PL/I, Assembler and COBOL. Available, too, are a variety of Series/1 programming packages to meet such needs as energy management, intelligent data entry and interactive processing.
More Capacity and Flexibility
Series/1 is powerful enough to be used in a stand-alone capacity and flexible enough for distributed processing.
It can be programmed for a wide scope of tasks, including general business accounting, administrative applications and industrial automation for machine and process control, as well as power management, communications applications and scientific and engineering functions.
IBM Service Support
Series/1 is backed by IBM's extensive service organization.
Ongoing IBM maintenance is available at a fixed monthly charge.
To find out how Series/1 can contribute to the growth of your business, contact your IBM Series/1 marketing representative or write the IBM General Systems Division, P.O. Box 2068, Atlanta, Georgia 30301.
IBM
A small computer can make a big difference
---
Tag: