Descrizione del contenuto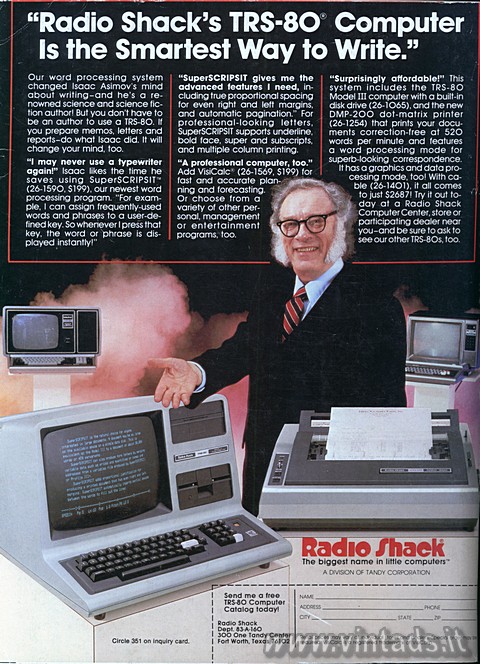 ---
Gradimento:





(1 voti)
---
Per scaricare questo contenuto devi fare login o registrarti
---
Commenti:
Non è presente alcun commento
Effettua il login per inserire un nuovo commento
Titolo:
TRS-80 the smartest way to write
---
Dimensione file:
1,8 MB (2338x3233 pixel)
---
Tipo del contenuto:
pagina di rivista o giornale
---
Fonte pubblicazione:
Byte
---
Data della fonte:
January 1983
---
Linguaggio:
en (English)
---
Marca del contenuto:
Tandy Radio Shack

&nbsp
---
Caricato da:
Maverich
il 23-11-2019
---
Vuoi provare lo strumento
nel nostro Museo?
---
Testo originale:
"Radio Shack's TRS-80 Computer Is the Smartest Way to Write"
Our word processing system changed Isaac Asimov's mind about writing-and he's a renowned science and science fiction author! But you don't have to be an author to use a TRS-80. If you prepare memos, letters and reports-do what Isaac did. It will change your mind, too.
"I may never use a typewriter again!" Isaac likes the time he saves using SuperSCRIPSIT™ (26-1590, $199), our newest word processing program. "For example, I can assign frequently-used words and phrases to a user-defined key. So whenever I press that key, the word or phrase is displayed instantly!"
"SuperSCRIPSIT gives me the advanced features I need, including true proportional spacing for even right and left margins, and automatic pagination." For professional-looking letters, SuperSCRIPSIT supports underline, bold face, super and subscripts, and multiple column printing.
"A professional computer, too."
Add VisiCalc® (26-1569, $199) for fast and accurate planning and forecasting. Or choose from a variety of other personal, management or entertainment programs, too.
"Surprisingly affordable!" This system includes the TRS-80 Model III computer with a built-in disk drive (26-1065), and the new DMP-200 dot-matrix printer (26-1254) that prints your documents correction-free at 520 words per minute and features a word processing mode for superb-looking correspondence. It has a graphics and data processing mode, too! With cable (26-1401), it all comes to just $2687! Try it out today at a Radio Shack Computer Center, store or participating dealer near you-and be sure to ask to see our other TRS-80S, too.
Radio Shack
The biggest name in little computers
A DIVISION OF TANDY CORPORATION
---
Tag: