A journey through time with IBM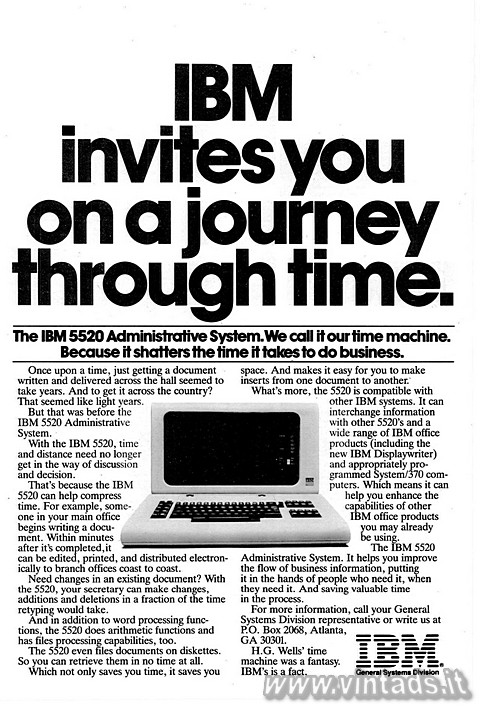 ---
Gradimento:





(0 voti)
---
Per scaricare questo contenuto devi fare login o registrarti
---
Commenti:
Non è presente alcun commento
Effettua il login per inserire un nuovo commento
---
Titolo:
A journey through time with IBM
---
Dimensione file:
447 KB (1280x1884 pixel)
---
Tipo del contenuto:
pagina di rivista o giornale
---
Fonte pubblicazione:
Computerworld
---
Data della fonte:
3 November 1980
---
Linguaggio:
en (English)
---
Marca del contenuto:
Ibm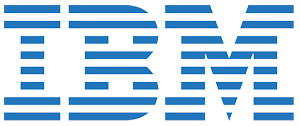 &nbsp
---
Caricato da:
Maverich
il 23-11-2019
---
Testo originale:
IBM invites you on a journey through time.
The IBM 5520 Administrative System. We call it our time machine.
Because it shatters the time it takes to do business.
Once upon a time, just getting a document written and delivered across the hall seemed to take years.
And to get it across the country? That seemed like light years.
But that was before the IBM 5520 Administrative System.
With the IBM 5520, time and distance need no longer get in the way of discussion and decision.
That's because the IBM 5520 can help compress time. For example, someone in your main office begins writing a document.
Within minutes after it's completed, it can be edited, printed, and distributed electronically to branch offices coast to coast. Need changes in an existing document? With the 5520, your secretary can make changes, additions and deletions in a fraction of the time retyping would take.
And in addition to word processing functions, the 5520 does arithmetic functions and has files processing capabilities, too.
The 5520 even files documents on diskettes. So you can retrieve them in no time at all.
Which not only saves you time, it saves you space.
And makes it easy for you to make inserts from one document to another.
What's more, the 5520 is compatible with other IBM systems. It can interchange information with other 5520's and a wide range of IBM office products (including the new IBM Displaywriter) and appropriately programmed System/370 computers.
Which means it can help you enhance the capabilities of other IBM office products you may already be using.
The IBM 5520 Administrative System. It helps you improve the flow of business information, putting it in the hands of people who need it, when they need it. And saving valuable time in the process.
IBM
General Systems Division
---
Tag: