Descrizione del contenuto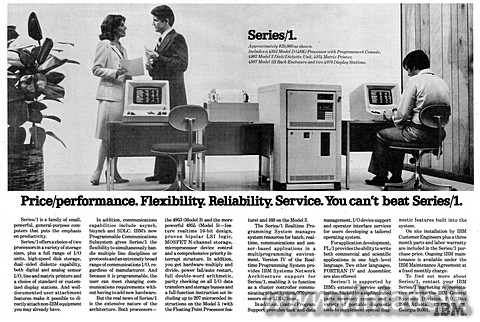 ---
Gradimento:





(0 voti)
---
Per scaricare questo contenuto devi fare login o registrarti
---
Commenti:
Non è presente alcun commento
Effettua il login per inserire un nuovo commento
Titolo:
You can't beat IBM Series/1.
---
Dimensione file:
631 KB (1846x1237 pixel)
---
Tipo del contenuto:
pagina di rivista o giornale
---
Fonte pubblicazione:
Computerworld
---
Data della fonte:
12 December 1977
---
Linguaggio:
en (English)
---
Marca del contenuto:
Ibm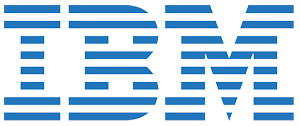 &nbsp
---
Caricato da:
Maverich
il 23-11-2019
---
Testo originale:
Price/performance. Flexibility. Reliability. Service. You can't beat Series/1.
Series/1 is a family of small, powerful, general-purpose computers that puts the emphasis on productivity.
Series/1 offers a choice of two processors in a variety of storage sizes, plus a full range of I/O units, high-speed disk storage, dual-sided diskette capability, both digital and analog sensor I/O, line and matrix printers and a choice of standard or customized display stations. And well documented user attachment features make it possible to directly attach non-IBM equipment you may already have.
In addition, communications capabilities include asynch, bisynch and SDLC. IBM's new Programmable Communications Subsystem gives Series/1 the flexibility to simultaneously handle multiple line disciplines or protocols and an extremely broad range of communications I/O, regardless of manufacturer. And because it is programmable, the user can meet changing communications requirements without having to add new hardware.
But the real news of Series/1 is the extensive nature of the architecture. Both processors—the 4953 (Model 3) and the more powerful 4955 (Model 5)—feature realtime 16-bit design, proven bipolar LSI logic, MOSFET N-channel storage, microprocessor device control and a comprehensive priority interrupt structure. In addition, you get hardware multiply and divide, power fail/auto restart, full double-word arithmetic, parity checking on all I/O data transfers and storage busses and a full-function instruction set including up to 207 microcoded instructions on the Model 5 (with the Floating Point Processor feature) and 168 on the Model 3.
The Series/1 Realtime Programming System manages system resources for batch, realtime, communications and sensor-based applications in a multiprogramming environment. Version IV of the Realtime Programming System provides IBM Systems Network Architecture support for Series/1, enabling it to function as a cluster controller communicating to host System/370 processors over SDLC lines.
In addition, Control Program Support provides task and data management, I/O device support and operator interface services for users developing a tailored operating system.
For application development, PL/1 provides the ability to write both commercial and scientific applications in one high - level language. Two other languages, FORTRAN IV and Assembler, are also offered.
Series/1 is supported by IBM's extensive service organization, backed by a sophisticated parts inventory system and a variety of portable diagnostic tools to supplement special diagnostic features built into the system.
On site installation by IBM Customer Engineers plus a three month parts and labor warranty are included in the Series/1 purchase price. Ongoing IBM maintenance is available under the IBM Maintenance Agreement at a fixed monthly charge.
To find out more about Series/1, contact your IBM Series/1 marketing representative or write the IBM General Systems
Division, P.O. Box 2068, Atlanta, Georgia 30301.
IBM
---
Tag: