Descrizione del contenuto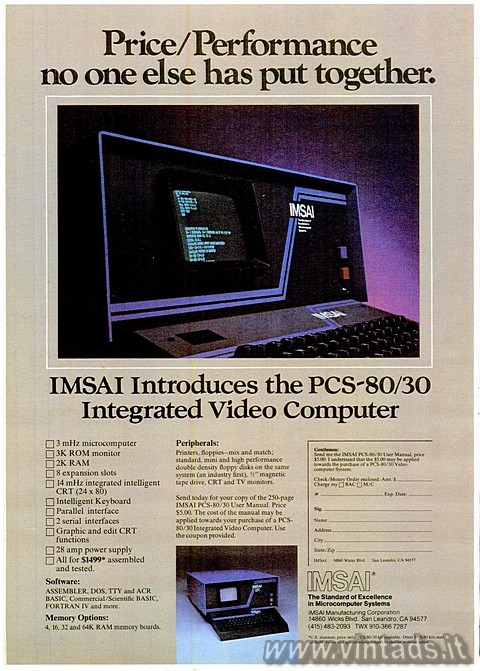 ---
Gradimento:





(0 voti)
---
Per scaricare questo contenuto devi fare login o registrarti
---
Commenti:
Non è presente alcun commento
Effettua il login per inserire un nuovo commento
Titolo:
Price/Performance: no one else has put together
---
Dimensione file:
372 KB (962x1344 pixel)
---
Tipo del contenuto:
pagina di rivista o giornale
---
Fonte pubblicazione:
Computerworld
---
Data della fonte:
12 December 1977
---
Linguaggio:
en (English)
---
Marca del contenuto:
Imsai

&nbsp
---
Caricato da:
Maverich
il 08-12-2019
---
Testo originale:
Price/Performance no one else has put together.
IMSAI Introduces the PCS-80/30
Integrated Video Computer
• 3 mHz microcomputer
• 3K ROM monitor
• 2K RAM
• 8 expansion slots
• 14 mHz integrated intelligent CRT (24 x 80)
• Intelligent Keyboard
• 2 serial interfaces
• Graphic and edit CRT functions
• 28 amp power supply
• All for $1499* assembled and tested.
Software:
ASSEMBLER, DOS, TTY and ACR BASIC, Commercial/Scientific BASIC, FORTRAN IV and more.
Memory Options:
4, 16, 32 and 64K RAM memory boards.
Peripherals:
Printers, floppies—mix and match;
standard, mini and high performance double density floppy disks on the same system (an industry first),
1\2" magnetic tape drive, CRT and TV monitors.
Send today for your copy of the 250-page IMSAI PCS-80/30 User Manual.
Price 55.00. The cost of the manual may be applied towards your purchase of a PCS80/30 Integrated Video Computer.
Use the coupon provided.
IMSAI
The Standard Of Excellence In Microcomputer Systems
---
Tag: