Descrizione del contenuto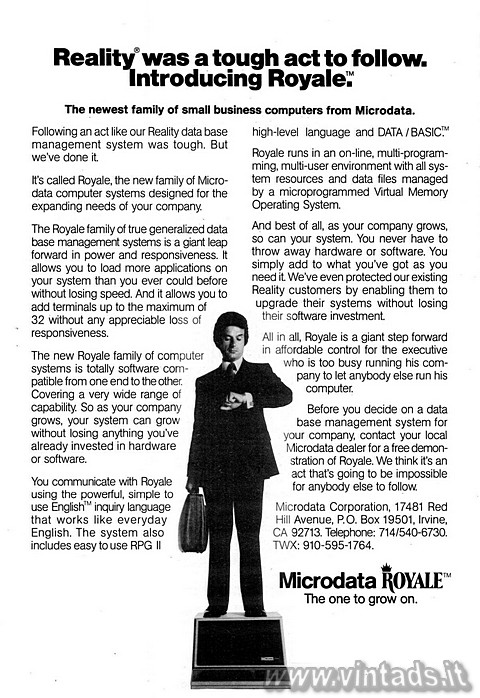 ---
Gradimento:





(0 voti)
---
Per scaricare questo contenuto devi fare login o registrarti
---
Commenti:
Non è presente alcun commento
Effettua il login per inserire un nuovo commento
Titolo:
Reality was a tough act to follow.
---
Dimensione file:
429 KB (1204x1751 pixel)
---
Tipo del contenuto:
pagina di rivista o giornale
---
Fonte pubblicazione:
Computerworld
---
Data della fonte:
12 December 1977
---
Linguaggio:
en (English)
---
Marca del contenuto:
Microdata
&nbsp
---
Caricato da:
Maverich
il 08-12-2019
---
Testo originale:
Reality was a tough act to follow.
Introducing Royale.
The newest family of small business computers from Microdata.
Following an act like our Reality data base management system was tough. But we've done it.
It's called Royale, the new family of Micro-data computer systems designed for the expanding needs of your company.
The Royale family of true generalized data base management systems is a giant leap forward in power and responsiveness.
It allows you to load more applications on your system than you ever could before without losing speed.
And it allows you to add terminals up to the maximum of 32 without any appreciable loss of responsiveness.
The new Royale family of computer systems is totally software compatible from one end to the other.
Covering a very wide range of capability.
So as your company grows, your system can grow without losing anything you've already invested in hardware or software.
You communicate with Royale using the powerful, simple to use English inquiry language that works like everyday English.
The system also includes easy to use RPG II high-level language and DATA/BASIC.
Royale runs in an on-line, multi-programming, multi-user environment with all system resources and data files managed by a microprogrammed Virtual Memory Operating System.
And best of all, as your company grows, so can your system.
You never have to throw away hardware or software.
You simply add to what you've got as you need it.
We've even protected our existing Reality customers by enabling them to upgrade their systems without losing their software investment.
All in all, Royale is a giant step forward in affordable control for the executive who is too busy running his company to let anybody else run his computer.
Before you decide on a data base management system for your company, contact your local Microdata dealer for a free demonstration of Royale.
We think it's an act that's going to be impossible for anybody else to follow.
Microdata ROYALE
The one to grow on.
---
Tag: