Descrizione del contenuto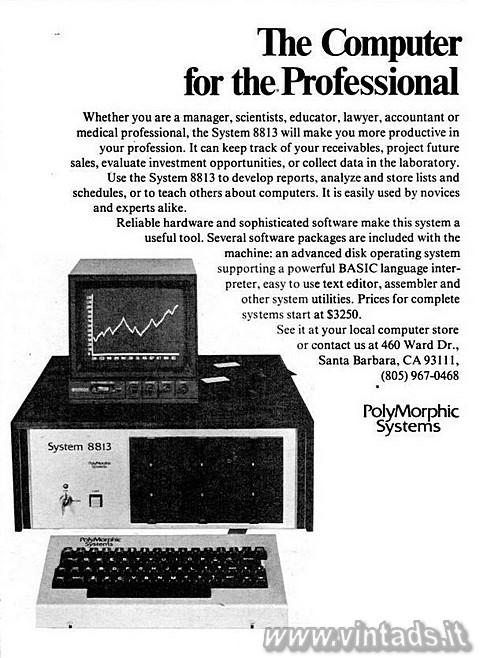 ---
Gradimento:





(1 voti)
---
Per scaricare questo contenuto devi fare login o registrarti
---
Commenti:
Non è presente alcun commento
Effettua il login per inserire un nuovo commento
Titolo:
The Computer for the Professional
---
Dimensione file:
124 KB (609x835 pixel)
---
Tipo del contenuto:
pagina di rivista o giornale
---
Fonte pubblicazione:
Computerworld
---
Data della fonte:
12 December 1977
---
Linguaggio:
en (English)
---
Marca del contenuto:
Polymorphic Systems

&nbsp
---
Caricato da:
Maverich
il 08-12-2019
---
Testo originale:
The Computer for the Professional
Whether you are a manager, scientists, educator, lawyer, accountant or medical professional, the System 8813 will make you more productive in your profession.
It can keep track of your receivables, project future sales, evaluate investment opportunities, or collect data in the laboratory.
Use the System 8813 to develop reports, analyze and store lists and schedules, or to teach others about computers.
It is easily used by novices and experts alike.
Reliable hardware and sophisticated software make this system a useful tool.
Several software packages are included with the machine: an advanced disk operating system supporting a powerful BASIC language interpreter, easy to use text editor, assembler and other system utilities.
PolyMorphic systems
---
Tag: