Descrizione del contenuto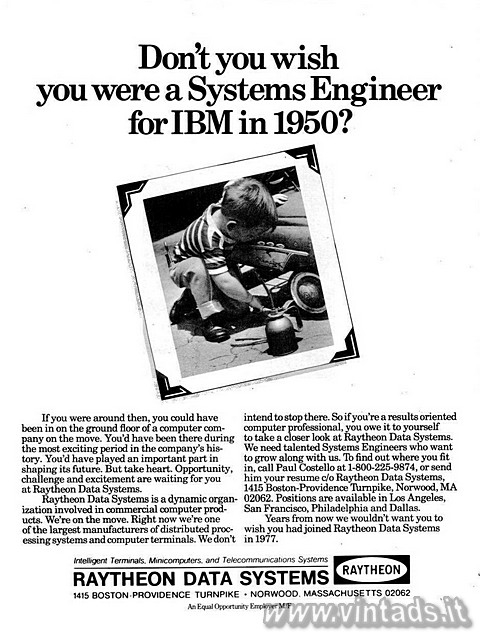 ---
Gradimento:





(0 voti)
---
Per scaricare questo contenuto devi fare login o registrarti
---
Commenti:
Non è presente alcun commento
Effettua il login per inserire un nuovo commento
Titolo:
Don't you wish you were a Systems Engineer for IBM in 1950?
---
Dimensione file:
233 KB (941x1243 pixel)
---
Tipo del contenuto:
pagina di rivista o giornale
---
Fonte pubblicazione:
Computerworld
---
Data della fonte:
12 December 1977
---
Linguaggio:
en (English)
---
Marca del contenuto:
Raytheon

&nbsp
---
Caricato da:
Maverich
il 08-12-2019
---
Testo originale:
Don't you wish you were a Systems Engineer for IBM in 1950?
If you were around then, you could have been in on the ground floor of a computer company on the move.
You'd have been there during the most exciting period in the company's history.
You'd have played an important part in shaping its future.
But take heart.
Opportunity, challenge and excitement are waiting for you at Raytheon Data Systems.
Raytheon Data Systems is a dynamic organization involved in commercial computer products.
We're on the move.
Right now we're one of the largest manufacturers of distributed processing systems and computer terminals.
We don't intend to stop there.
So if you're a results oriented computer professional, you owe it to yourself to take a closer look at Raytheon Data Systems.
We need talented Systems Engineers who want to grow along with us.
Positions are available in Los Angeles, San Francisco, Philadelphia and Dallas.
Years from now we wouldn't want you to wish you had joined Raytheon Data Systems in 1977.
Intelligent terminals, minicomputers, and telecommunication systems
Raytheon Data Systems
---
Tag: