Descrizione del contenuto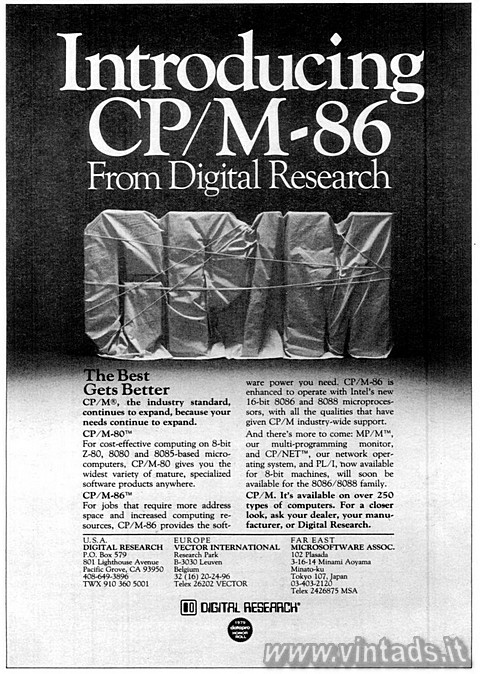 ---
Gradimento:





(0 voti)
---
Per scaricare questo contenuto devi fare login o registrarti
---
Commenti:
Non è presente alcun commento
Effettua il login per inserire un nuovo commento
Titolo:
Introducing CP/M-86 From Digital Research
---
Dimensione file:
277 KB (874x1227 pixel)
---
Tipo del contenuto:
pagina di rivista o giornale
---
Fonte pubblicazione:
Computerworld
---
Data della fonte:
26 January 1981
---
Linguaggio:
en (English)
---
Marca del contenuto:
Digital Research
&nbsp
---
Caricato da:
Maverich
il 09-01-2020
---
Testo originale:
Introducing CP/M-86 From Digital Research
The Best Gets Better
CP/M, the industry standard, continues to expand, because your needs continue to expand.
CP/M-80
For cost-effective computing on 8-bit Z-80, 8080 and 8085-based microcomputers, CP/M-80 gives you the widest variety of
mature, specialized software products anywhere.
CP/M-86
For jobs that require more address space and increased computing resources, CP/M-86 provides the software power you need.
CP/M-86 is enhanced to operate with Intel's new 16-bit 8086 and 8088 microprocessors, with all the qualities that have given CP/M industry-wide support.
And there's more to come: MP/M, our multiprogramming monitor, and CP/NET, our network operating system, and PL/i, now available for 8-bit machines, will soon be available for the 8086/8088 family.
CP/M. It's available on over 250 types of computers. For a closer look, ask your dealer, your manufacturer, or Digital Research.
---
Tag: