Descrizione del contenuto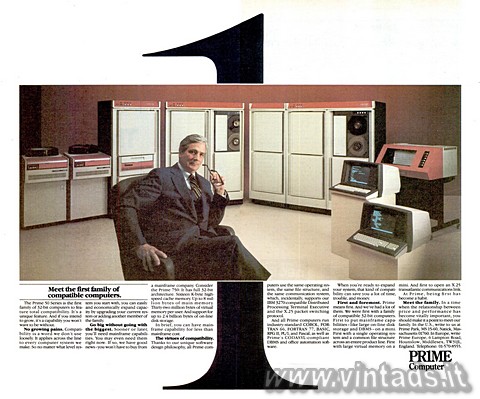 ---
Gradimento:





(0 voti)
---
Per scaricare questo contenuto devi fare login o registrarti
---
Commenti:
Non è presente alcun commento
Effettua il login per inserire un nuovo commento
Titolo:
Meet the first family of compatible computers.
---
Dimensione file:
834 KB (2184x1815 pixel)
---
Tipo del contenuto:
pagina di rivista o giornale
---
Fonte pubblicazione:
Computerworld
---
Data della fonte:
26 January 1981
---
Linguaggio:
en (English)
---
Marca del contenuto:
Pr1me

&nbsp
---
Caricato da:
Maverich
il 27-01-2020
---
Testo originale:
Meet the first family of compatible computers.
The Prime 50 Series is the first family of 32-bit computers to feature total compatibility. It's a unique feature. And if you intend to grow, it's a capability you won't want to be without.
No growing pains. Compatibility is a word we don't use loosely. It applies across the line to every computer system we make. So no matter what level system you start with, you can easily and economically expand capacity by upgrading your current system or adding another member of the family.
Go big without going with the biggest. Sooner or later, you'll need mainframe capabilities. You may even need them right now. If so, we have good news-you won't have to buy from a mainframe company. Consider the Prime 750: It has full 32-bit architecture. Sixteen K-byte highspeed cache memory. Up to 8 million bytes of main memory. Thirty-two million bytes of virtual memory per user. And support for up to 2.4 billion bytes of on-line disk storage.
In brief, you can have mainframe capability for less than mainframe cost.
The virtues of compatibility. Thanks to our unique software design philosophy, all Prime computers use the same operating system, the same file structure, and the same communication system, which, incidentally, supports our IBM 3270-compatible Distributed Processing Terminal Executive and the X.25 packet switching protocol.
And all Prime computers run industry-standard COBOL, FORTRAN 66, FORTRAN 77, BASIC, RPG II, PL/1, and Pascal, as well as Prime's CODASYL-compliant DBMS and office automation software.
When you're ready to expand your system, that kind of compatibility can save you a lot of time, trouble, and money.
First and foremost. Prime means first. And we've had a lot of them. We were first with a family of compatible 32-bit computers. First to put mainframe capabilities-like large on-line disk storage and DBMS-on a mini. First with a single operating system and a common file structure across an entire product line. First with large virtual memory on a mini. And first to open an X.25 transatlantic communications link. At Prime, being first has become a habit.
Meet the family. In a time when the relationship between price and performance has become vitally important, you should make it a point to meet our family. In the U.S., write to us at Prime Park, MS 15-60, Natick, Massachusetts 01760. In Europe, write Prime Europe, 6 Lampton Road, Hounslow, Middlesex, TW31JL, England. Telephone: 01-570-8555.
PR1ME Computer
---
Tag: