Descrizione del contenuto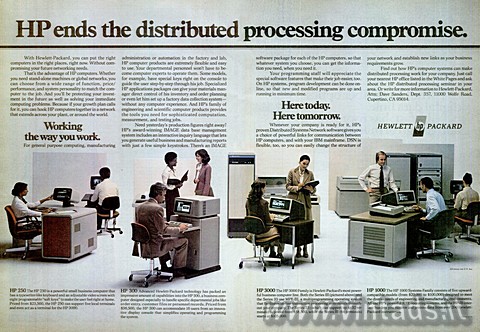 ---
Gradimento:





(0 voti)
---
Per scaricare questo contenuto devi fare login o registrarti
---
Commenti:
Non è presente alcun commento
Effettua il login per inserire un nuovo commento
Titolo:
HP ends the distributed processing compromise
---
Dimensione file:
1,3 MB (2576x1781 pixel)
---
Tipo del contenuto:
pagina di rivista o giornale
---
Fonte pubblicazione:
Computerworld
---
Data della fonte:
30 July 1979
---
Linguaggio:
en (English)
---
Marca del contenuto:
Hp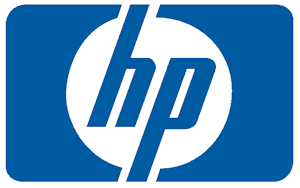 &nbsp
---
Caricato da:
Maverich
il 12-02-2020
---
Testo originale:
HP ends the distributed processing compromise.
With Hewlett-Packard, you can put the right computers in the right places, right now. Without compromising your future networking needs.
That's the advantage of HP computers. Whether you need stand-alone machines or global networks, you can choose from a wide range of function, price/ performance, and system personality to match the computer to the job. And you'll be protecting your investment in the future as well as solving your immediate computing problems. Because if your growth plan calls for it, you can hook HP computers together in a network that extends across your plant, or around the world.
Working the way you work.
For general purpose computing, manufacturing administration or automation in the factory and lab, HP computer products are extremely flexible and easy to use. Your departmental personnel won't have to become computer experts to operate them.
Some models, for example, have special keys right on the console to guide the user step-by-step through his job.
Specialized HP applications packages can give your materials manager direct control of his inventory and order planning or even let him set up a factory data collection system — without any computer experience. And HP's family of engineering and scientific computer products provides the tools you need for sophisticated computation, measurement, and testing jobs.
Need yesterday's production figures right away? HP's award-winning IMAGE data base management system includes an interactive inquiry language that lets you generate useful business and manufacturing reports with just a few simple keystrokes.
There's an IMAGE software package for each of the HP computers, so that whatever system you choose, you can get the information you need, when you need it.
Your programming staff will appreciate the special software features that make their job easier, too. On HP systems, program development can be done online, so that new and modified programs are up and running in minimum time.
Here today. Here tomorrow.
Whenever your company is ready for it, HP's proven Distributed Systems Network software gives you a choice of powerful links for communication between HP computers, and with your IBM mainframe. DSN is flexible, too, so you can easily change the structure of your network and establish new links as your business requirements grow.
Find out how HP's computer systems can make distributed processing work for your company. Just call your nearest HP office listed in the White Pages and ask about the HP distributed processing seminar in your area. Or write for more information to Hewlett-Packard, Attn: Dave Sanders, Dept. 357, 11000 Wolfe Road, Cupertino, CA 95014.
HEWLETT PACKARD
HP 250
The HP 250 is a powerful small business computer that has a typewriter-like keyboard and an adjustable video screen with eight programmable "soft keys" to make the user feel right at home. Priced from $23,500, the HP 250 can support five local terminals and even act as a terminal for the HP 3000.
HP 300
HP 300 Advanced Hewlett-Packard technology has packed an impressive amount of capabilities into the HP 300, a business computer designed especially to handle specific departmental jobs like order entry, customer files or personnel records.
Priced from $36,500, the HP 300 can accommodate 16 users from an innovative display console that simplifies operating and programming the system.
HP 3000
The HP 3000 Family is Hewlett-Packard's most powerful business computer line. Both the Series III (pictured above) and the Series 33 use MPE-III, a multiprogramming operating system that facilitates on-line transaction processing at terminals throughout your company. The Series 33 (which can support up to 32 terminals) is priced from $58,500, while the Series III (64 terminals) starts at $105,000.
HP 1000
The HP 1000 Systems Family consists of five upward-compatible models (from $20,000 to $100,000) designed to meet the diverse needs of engineering and manufacturing environments. All use HP's powerful RTE operating systems, and the HP-IB interface bus lets you monitor and process data from over 200 Hewlett-Packard instruments.
---
Tag: