Descrizione del contenuto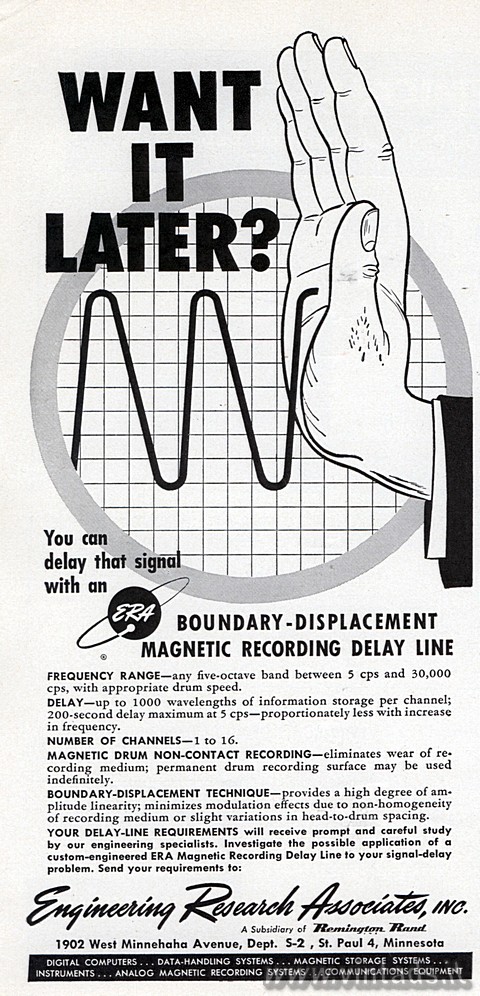 ---
Gradimento:





(0 voti)
---
Per scaricare questo contenuto devi fare login o registrarti
---
Commenti:
Non è presente alcun commento
Effettua il login per inserire un nuovo commento
Titolo:
WANT IT LATER?
---
Dimensione file:
974 KB (1521x3155 pixel)
---
Tipo del contenuto:
pagina di rivista o giornale
---
Fonte pubblicazione:
Scientific American
---
Data della fonte:
January 1953
---
Linguaggio:
en (English)
---
Marca del contenuto:
Era
&nbsp
---
Caricato da:
Maverich
il 21-02-2020
---
Testo originale:
WANT IT LATER?
You can delay that signal with an
ERA BOUNDARY-DISPLACEMENT MAGNETIC RECORDING DELAY LINE
FREQUENCY RANGE-any five-octave band between 5 cps and 30,000cps, with appropriate drum speed.
DELAY-up to 1000 wavelengths of information storage per channel; 200-second delay maximum at 5 cps-proportionately less with increase in frequency.
NUMBER OF CHANNELS-1 to 16.
MAGNETIC DRUM NON-CONTACT RECORDING-eliminates wear of recording medium; permanent drum recording surface may be used indefinitely.
BOUNDARY-DISPLACEMENT TECHNIQUE-provides a high degree of amplitude linearity; minimizes modulation effects due to non-homogeneity of recording medium or slight variations in head-to-drum spacing.
YOUR DELAY-LINE REQUIREMENTS will receive prompt and careful study by our engineering specialists. Investigate the possible application of a custom-engineered ERA Magnetic Recording Delay Line to your signal-delay problem. Send your requirements to:
Engineering Research Associates, INC.
A subsidiary of Remington Rand
1902 West Minnehaha Avenue, Dept. S-2 , St. Paul 4, Minnesota
DIGITAL COMPUTERS . . . DATA-HANDLING SYSTEMS . . . MAGNETIC STORAGE SYSTEMS . . . INSTRUMENTS . . . ANALOG MAGNETIC RECORDING SYSTEMS… COMMUNICATIONS EQUIPMENT
---
Tag: