Descrizione del contenuto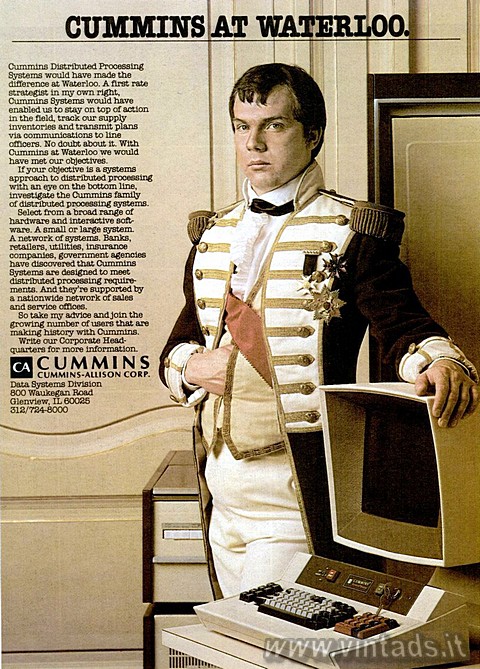 ---
Gradimento:





(0 voti)
---
Per scaricare questo contenuto devi fare login o registrarti
---
Commenti:
Non è presente alcun commento
Effettua il login per inserire un nuovo commento
Titolo:
CUMMINS AT WATERLOO.
---
Dimensione file:
411 KB (943x1315 pixel)
---
Tipo del contenuto:
pagina di rivista o giornale
---
Fonte pubblicazione:
Computerworld
---
Data della fonte:
28 August 1978
---
Linguaggio:
en (English)
---
Marca del contenuto:
Cummins
&nbsp
---
Caricato da:
Maverich
il 28-02-2020
---
Testo originale:
CUMMINS AT WATERLOO.
Cummins Distributed Processing Systems would have made the difference at Waterloo.
A first rate strategist in my own right, Cummins Systems would have enabled us to stay on top of action in the field, track our supply inventories and transmit plans via communications to line officers.
No doubt about it. With Cummins at Waterloo we would have met our objectives.
If your objective is a systems approach to distributed processing with an eye on the bottom line, investigate the Cummins family of distributed processing systems.
Select from a broad range of hardware and interactive software. A small or large system.
A network of systems. Banks, retailers, utilities, insurance companies, government agencies have discovered that Cummins Systems are designed to meet distributed processing requirements. And they're supported by a nationwide network of sales and service offices.
So take my advice and join the growing number of users that are making history with Cummins.
Write our Corporate Headquarters for more information.
CUMMINS
CUMMINS-ALLISON CORP. Data Systems Division 800 Waukegan Road Glenview, IL 60025 312/724-8000 CA
---
Tag: