Try telling him how to run his kitchen.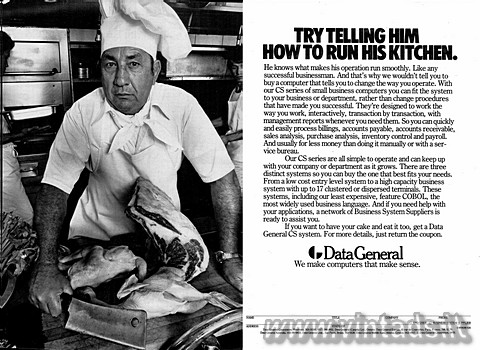 ---
Gradimento:





(0 voti)
---
Per scaricare questo contenuto devi fare login o registrarti
---
Commenti:
Non è presente alcun commento
Effettua il login per inserire un nuovo commento
---
Titolo:
Try telling him how to run his kitchen.
---
Dimensione file:
1,1 MB (2529x1845 pixel)
---
Tipo del contenuto:
pagina di rivista o giornale
---
Fonte pubblicazione:
Computerworld
---
Data della fonte:
28 August 1978
---
Linguaggio:
en (English)
---
Marca del contenuto:
Data General

&nbsp
---
Caricato da:
Maverich
il 28-02-2020
---
Testo originale:
Try telling him how to run his kitchen.
He knows what makes his operation run smoothly. Like any successful businessman. And that's why we wouldn't tell you to buy a computer that tells you to change the way you operate. With our CS series of small business computers you can fit the system to your business or department, rather than change procedures that have made you successful. They're designed to work the way you work, interactively, transaction by transaction, with management reports whenever you need them. So you can quickly and easily process billings, accounts payable, accounts receivable, sales analysis, purchase analysis, inventory control and payroll.
And usually for less money than doing it manually or with a service bureau.
Our CS series are all simple to operate and can keep up with your company or department as it grows. There are three distinct systems so you can buy the one that best fits your needs.
From a low cost entry level system to a high capacity business system with up to 17 clustered or dispersed terminals. These systems, including our least expensive, feature COBOL, the most widely used business language. And if you need help with your applications, a network of Business System Suppliers is ready to assist you.
If you want to have your cake and eat it too, get a Data General CS system. For more details, just return the coupon.
Data General
We make computers that make sense.
---
Tag: