The Ampex alternative to NOVA* minis.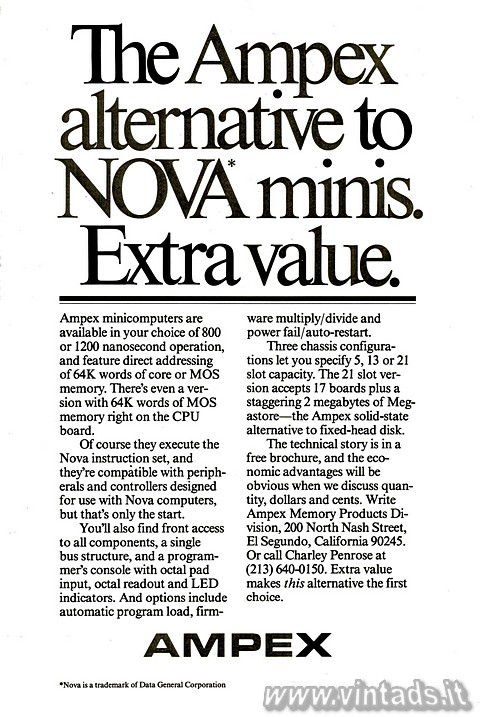 ---
Gradimento:





(1 voti)
---
Per scaricare questo contenuto devi fare login o registrarti
---
Commenti:
Non è presente alcun commento
Effettua il login per inserire un nuovo commento
---
Titolo:
The Ampex alternative to NOVA* minis.
---
Dimensione file:
497 KB (1280x1913 pixel)
---
Tipo del contenuto:
pagina di rivista o giornale
---
Fonte pubblicazione:
Computerworld
---
Data della fonte:
28 August 1978
---
Linguaggio:
en (English)
---
Marca del contenuto:
Ampex

&nbsp
---
Caricato da:
Maverich
il 16-03-2020
---
Testo originale:
The Ampex alternative to NOVA* minis. Extra value.
Ampex minicomputers are available in your choice of 800 or 1200 nanosecond operation, and feature direct addressing of 64K words of core or MOS memory. There's even a version with 64K words of MOS memory right on the CPU board.
Of course they execute the Nova instruction set, and they're compatible with peripherals and controllers designed for use with Nova computers, but that's only the start.
You'll also find front access to all components, a single bus structure, and a programmer's console with octal pad input, octal readout and LED indicators. And options include automatic program load, firm ware multiply/ divide and power fail/auto-restart.
Three chassis configurations let you specify 5, 13 or 21 slot capacity. The 21 slot version accepts 17 boards plus a staggering 2 megabytes of Megastore—the Ampex solid-state alternative to fixed-head disk.
The technical story is in a free brochure, and the economic advantages will be obvious when we discuss quantity, dollars and cents. Write Ampex Memory Products Division, 200 North Nash Street, El Segundo, California 90245. Or call Charley Penrose at (213) 640-0150. Extra value makes this alternative the first choice.
AMPEX
*Nova is a trademark of Data General Corporation
---
Tag: