Descrizione del contenuto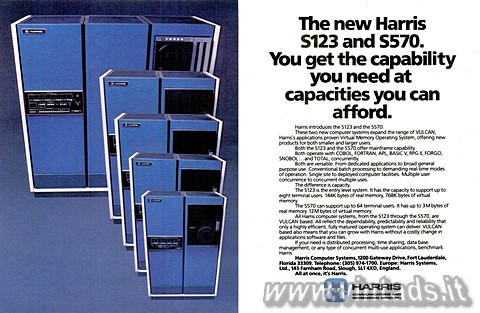 ---
Gradimento:





(0 voti)
---
Per scaricare questo contenuto devi fare login o registrarti
---
Commenti:
Non è presente alcun commento
Effettua il login per inserire un nuovo commento
Titolo:
The new Harris S123 and S570.
---
Dimensione file:
564 KB (1850x1206 pixel)
---
Tipo del contenuto:
pagina di rivista o giornale
---
Fonte pubblicazione:
Computerworld
---
Data della fonte:
28 August 1978
---
Linguaggio:
en (English)
---
Marca del contenuto:
Harris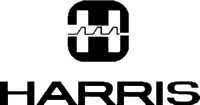 &nbsp
---
Caricato da:
Maverich
il 16-03-2020
---
Testo originale:
The new Harris S123 and S570.
You get the capability you need at capacities you can afford.
Harris introduces the S123 and the S570.
These two new computer systems expand the range of VULCAN, Harris's applications proven Virtual Memory Operating System, offering new products for both smaller and larger users.
Both the s5123 and the S570 offer mainframe capability.
Both operate with COBOL, FORTRAN, APL, BASIC V, RPG II, FORGO, SNOBOL... and TOTAL, concurrently.
Both are versatile. From dedicated applications to broad general purpose use. Conventional batch processing to demanding real-time modes of operation. Single site to deployed computer facilities. Multiple user concurrence to concurrent multiple uses.
The difference is capacity.
The S123 is the entry level system. It has the capacity to support up to eight terminal users. 144K bytes of real memory, 768K bytes of virtual memory.
The S570 can support up to 64 terminal users. It has up to 3M bytes of real memory. 12M bytes of virtual memory.
All Harris computer systems, from the S123 through the S570, are VULCAN based. All reflect the dependability, predictability and reliability that only a highly efficient, fully matured operating system can deliver. VULCAN based also means that you can grow with Harris without a costly change in applications software and files.
If your need is distributed processing, time sharing, data base management, or any type of concurrent multi-use applications, benchmark Harris.
Harris Computer Systems,1200 Gateway Drive, Fort Lauderdale, Florida 33309. Telephone: (305) 974-1700. Europe: Harris Systems, Ltd., 145 Farnham Road, Slough, SL14XD, England.
All at once, it's Harris.
HARRIS
COMMUNICATIONS AND INFORMATION HANDLING
---
Tag: