Descrizione del contenuto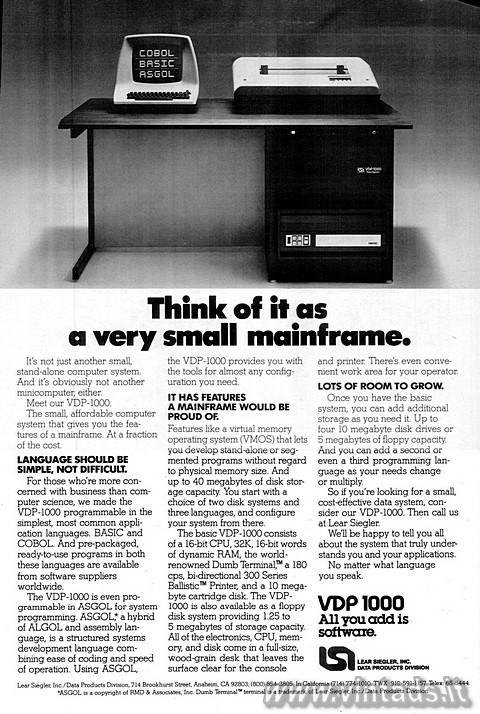 ---
Gradimento:





(0 voti)
---
Per scaricare questo contenuto devi fare login o registrarti
---
Commenti:
Non è presente alcun commento
Effettua il login per inserire un nuovo commento
Titolo:
Think of it as a very small mainframe.
---
Dimensione file:
612 KB (1257x1871 pixel)
---
Tipo del contenuto:
pagina di rivista o giornale
---
Fonte pubblicazione:
Computerworld
---
Data della fonte:
28 August 1978
---
Linguaggio:
en (English)
---
Marca del contenuto:
Lear Sigler
&nbsp
---
Caricato da:
Maverich
il 16-03-2020
---
Testo originale:
Think of it as a very small mainframe.
It's not just another small, stand-alone computer system. And it's obviously not another minicomputer, either.
Meet our VDP-1000.
The small, affordable computer system that gives you the features of a mainframe. At a fraction of the cost.
LANGUAGE SHOULD BE SIMPLE, NOT DIFFICULT.
For those who're more concerned with business than computer science, we made the VDP-1000 programmable in the simplest, most common application languages. BASIC and COBOL. And pre-packaged, ready-to-use programs in both these languages are available from software suppliers worldwide.
The VDP-1000 is even programmable in ASGOL for system programming. ASGOL* a hybrid of ALGOL and assembly language, is a structured systems development language combining ease of coding and speed of operation. Using ASGOL, the VDP-1000 provides you with the tools for almost any configuration you need.
IT HAS FEATURES A MAINFRAME WOULD BE PROUD OF.
Features like a virtual memory operating system (VMOS) that lets you develop stand-alone or segmented programs without regard to physical memory size. And up to 40 megabytes of disk storage capacity. You start with a choice of two disk systems and three languages, and configure your system from there.
The basic VDP-1000 consists of a 16-bit CPU, 32K, 16-bit words of dynamic RAM, the world-renowned Dumb Terminal,' a 180 cps, bi-directional 300 Series Ballistic' Printer, and a 10 megabyte cartridge disk. The VDP1000 is also available as a floppy disk system providing 1.25 to 5 megabytes of storage capacity. All of the electronics, CPU, memory, and disk come in a full-size, wood-grain desk that leaves the surface clear for the console and printer. There's even convenient work area for your operator.
LOTS OF ROOM TO GROW.
Once you have the basic system, you can add additional storage as you need it. Up to four 10 megabyte disk drives or 5 megabytes of floppy capacity. And you can add a second or even a third programming language as your needs change or multiply.
So if you're looking for a small, cost-effective data system, consider our VDP-1000. Then call us at Lear Siegler.
We'll be happy to tell you all about the system that truly understands you and your applications.
No matter what language you speak.
VDP 1000
All you add is software.
LEAR SIEGLER, INC.
DATA PRODUCTS DIVISION
---
Tag: