Descrizione del contenuto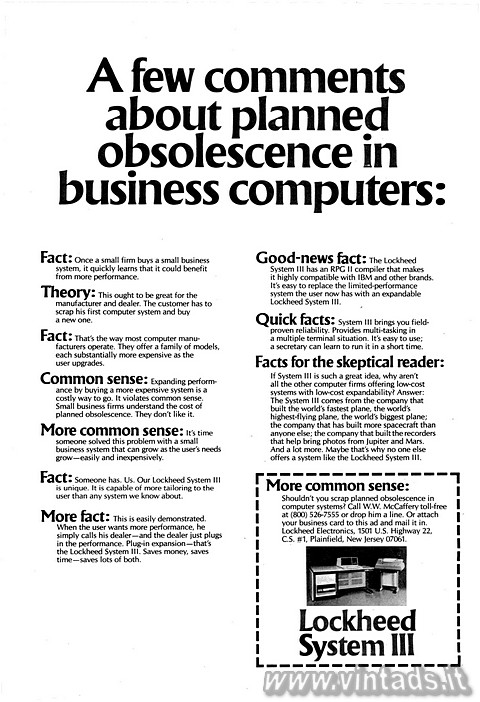 ---
Gradimento:





(0 voti)
---
Per scaricare questo contenuto devi fare login o registrarti
---
Commenti:
Non è presente alcun commento
Effettua il login per inserire un nuovo commento
Titolo:
planned obsolescence in business computers
---
Dimensione file:
413 KB (1280x1871 pixel)
---
Tipo del contenuto:
pagina di rivista o giornale
---
Fonte pubblicazione:
Computerworld
---
Data della fonte:
28 August 1978
---
Linguaggio:
en (English)
---
Marca del contenuto:
Lockheed
&nbsp
---
Caricato da:
Maverich
il 16-03-2020
---
Testo originale:
A few comments about planned obsolescence in business computers:
Fact: Once a small firm buys a small business system, it quickly learns that it could benefit from more performance.
Theory: This ought to be great for the manufacturer and dealer. The customer has to scrap his first computer system and buy a new one.
Fact: That's the way most computer manufacturers operate. They offer a family of models, each substantially more expensive as the user upgrades.
Common sense: Expanding performance by buying a more expensive system is a costly way to go. It violates common sense. Small business firms understand the cost of planned obsolescence. They don't like it.
More common sense: It's time someone solved this problem with a small business system that can grow as the user's needs grow—easily and inexpensively.
Fact: Someone has. Us. Our Lockheed System III is unique. It is capable of more tailoring to the user than any system we know about.
More fact: This is easily demonstrated. When the user wants more performance, he simply calls his dealer—and the dealer just plugs in the performance. Plug-in expansion—that's the Lockheed System Ill. Saves money, saves time—saves lots of both.
Good-news fact: The Lockheed System Ill has an RPG II compiler that makes it highly compatible with IBM and other brands. It's easy to replace the limited-performance system the user now has with an expandable Lockheed System III.
Quick facts: System III brings you field-proven reliability. Provides multi-tasking in a multiple terminal situation. It's easy to use; a secretary can learn to run it in a short time.
Facts for the skeptical reader: If System III is such a great idea, why aren't all the other computer firms offering low-cost systems with low-cost expandability?
Answer: The System III comes from the company that built the world's fastest plane, the world's highest-flying plane, the world's biggest plane; the company that has built more spacecraft than anyone else; the company that built the recorders that help bring photos from Jupiter and Mars.
And a lot more. Maybe that's why no one else offers a system like the Lockheed System III.
---
Tag: