Descrizione del contenuto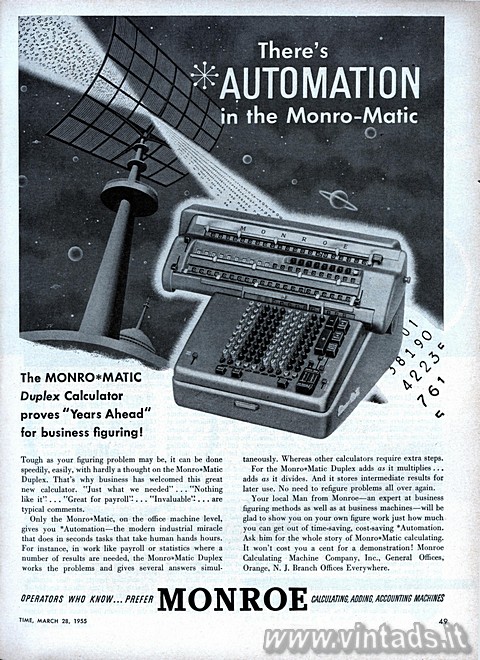 ---
Gradimento:





(0 voti)
---
Per scaricare questo contenuto devi fare login o registrarti
---
Commenti:
Non è presente alcun commento
Effettua il login per inserire un nuovo commento
Titolo:
There's AUTOMATION in the Monro-Matic
---
Dimensione file:
1,6 MB (2413x3320 pixel)
---
Tipo del contenuto:
pagina di rivista o giornale
---
Fonte pubblicazione:
Time
---
Data della fonte:
March 1955
---
Linguaggio:
en (English)
---
Marca del contenuto:
Monroe

&nbsp
---
Caricato da:
Maverich
il 16-03-2020
---
Testo originale:
There's AUTOMATION in the Monro-Matic
The MONRO*MATIC Duplex Calculator proves "Years Ahead" for business figuring!
Tough as your figuring problem may be, it can be done speedily, easily, with hardly a thought on the Monro*Matic Duplex. That's why business has welcomed this great new calculator. "Just what we needed" . . . "Nothing like it" . . . "Great for payroll" . . . "Invaluable" … are typical comments.
Only the Monro*Matic, on the office machine level, gives you *Automation—the modern industrial miracle that does in seconds tasks that take human hands hours. For instance, in work like payroll or statistics where a number of results are needed, the Monro*Matic Duplex works the problems and gives several answers simultaneously. Whereas other calculators require extra steps.
For the Monro*Matic Duplex adds as it multiplies … adds as it divides. And it stores intermediate results for later use. No need to refigure problems all over again.
Your local Man from Monroe—an expert at business figuring methods as well as at business machines—will be glad to show you on your own figure work just how much you can get out of time-saving, cost-saving *Automation. Ask him for the whole story of Monro*Matic calculating. It won't cost you a cent for a demonstration! Monroe Calculating Machine Company, Inc., General Offices, Orange, N. J. Branch Offices Everywhere.
OPERATORS WHO KNOW… PREFER MONROE CALCULATING, ADDING, ACCOUNTING MACHINES
---
Tag: