Descrizione del contenuto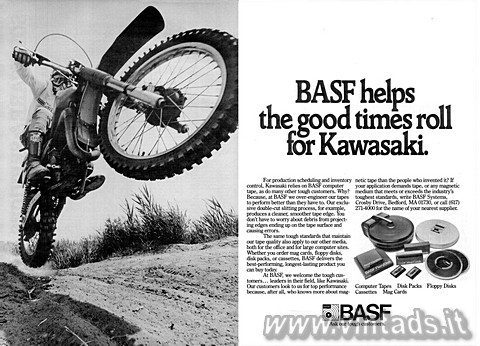 ---
Gradimento:





(0 voti)
---
Per scaricare questo contenuto devi fare login o registrarti
---
Commenti:
Non è presente alcun commento
Effettua il login per inserire un nuovo commento
Titolo:
BASF helps the good times
---
Dimensione file:
899 KB (2575x1856 pixel)
---
Tipo del contenuto:
pagina di rivista o giornale
---
Fonte pubblicazione:
Computerworld
---
Data della fonte:
30 July 1979
---
Linguaggio:
en (English)
---
Marca del contenuto:
Basf

&nbsp
---
Caricato da:
Spock
il 21-03-2020
---
Testo originale:
BASF helps the good times roll for Kawasaki.
For production scheduling and inventory control, Kawasaki relies on BASF computer tape, as do many other tough customers. Why? Because, at BASF we over-engineer our tapes to perform better than they have to. Our exclusive double-cut slitting process, for example, produces a cleaner, smoother tape edge. You don't have to worry about debris from projecting edges ending up on the tape surface and causing errors.
The same tough standards that maintain our tape quality also apply to our other media, both for the office and for large computer sites. Whether you order mag cards, floppy disks, disk packs, or cassettes, BASF delivers the best-performing, longest-lasting product you can buy today.
At BASF, we welcome the tough customers... leaders in their field, like Kawasaki.
Our customers look to us for top performance because, after all, who knows more about magnetic tape than the people who invented it? If your application demands tape, or any magnetic medium that meets or exceeds the industry's toughest standards, write BASF Systems, Crosby Drive, Bedford, MA 01730, or call (617) 271-4000 for the name of your nearest supplier.
BASF
Ask our tough customers.
---
Tag: