Descrizione del contenuto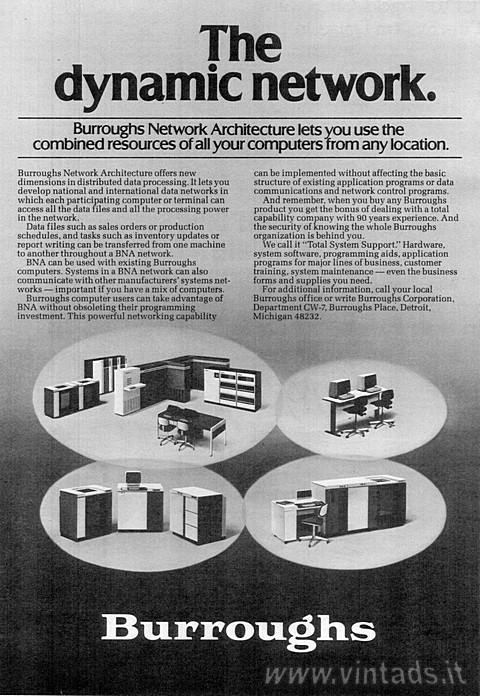 ---
Gradimento:





(0 voti)
---
Per scaricare questo contenuto devi fare login o registrarti
---
Commenti:
Non è presente alcun commento
Effettua il login per inserire un nuovo commento
Titolo:
The dynamic network.
---
Dimensione file:
439 KB (1158x1679 pixel)
---
Tipo del contenuto:
pagina di rivista o giornale
---
Fonte pubblicazione:
Computerworld
---
Data della fonte:
30 July 1979
---
Linguaggio:
en (English)
---
Marca del contenuto:
Burroughs

&nbsp
---
Caricato da:
Spock
il 21-03-2020
---
Testo originale:
The dynamic network.
Burroughs Network Architecture lets you use the combined resources of all your computers from any location.
Burroughs Network Architecture offers new dimensions in distributed data processing. It lets you develop national and international data networks in which each participating computer or terminal can access all the data files and all the processing power in the network.
Data files such as sales orders or production schedules, and tasks such as inventory updates or report writing can be transferred from one machine to another throughout a BNA network.
BNA can be used with existing Burroughs computers.
Systems in a BNA network can also communicate with other manufacturers'
systems networks — important if you have a mix of computers.
Burroughs computer users can take advantage of BNA without obsoleting their programming investment. This powerful networking capability can be implemented without affecting the basic structure of existing application
programs or data communications and network control programs.
And remember, when you buy any Burroughs product you get the bonus of dealing with a total capability company with 90 years experience. And the security of knowing the whole Burroughs organization is behind you.
We call it "Total System Support." Hardware, system software, programming aids, application programs for major lines of business, customer training, system maintenance — even the business forms and supplies you need.
For additional information, call your local Burroughs office or write Burroughs Corporation, Department CW-7, Burroughs Place, Detroit, Michigan 48232.
Burroughs
---
Tag: