TACTICAL FIGHTER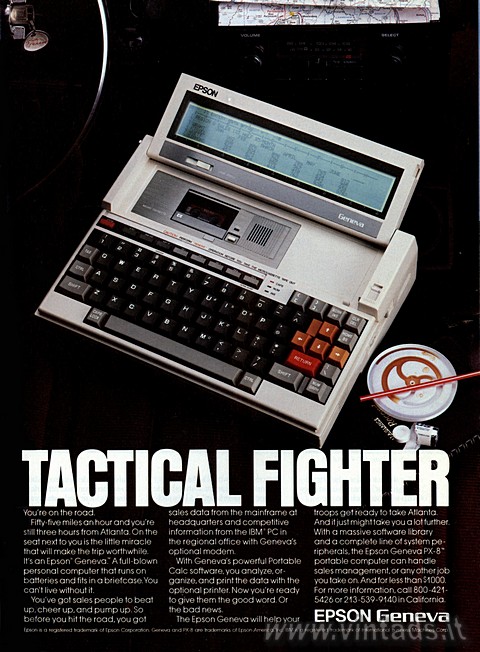 ---
Gradimento:





(0 voti)
---
Per scaricare questo contenuto devi fare login o registrarti
---
Commenti:
Non è presente alcun commento
Effettua il login per inserire un nuovo commento
---
Titolo:
TACTICAL FIGHTER
---
Dimensione file:
1,3 MB (2370x3221 pixel)
---
Tipo del contenuto:
pagina di rivista o giornale
---
Fonte pubblicazione:
sconosciuta
---
Data della fonte:
1985
---
Linguaggio:
en (English)
---
Marca del contenuto:
Epson

&nbsp
---
Caricato da:
Spock
il 21-03-2020
---
Testo originale:
TACTICAL FIGHTER
You're on the road.
Fifty-five miles an hour and you're still three hours from Atlanta. On the seat next to you is the little miracle that will make the trip worthwhile.
It's an Epson Geneva. A full-blown personal computer that runs on batteries and fits in a briefcase. You can't live without it.
You've got sales people to beat up, cheer up, and pump up. So before you hit the road, you got sales data from the mainframe at headquarters and competitive information from the IBM PC in the regional office with Geneva's optional modem.
With Geneva's powerful Portable Calc software, you analyze, organize, and print the data with the optional printer. Now you're ready to give them the good word. Or the bad news.
The Epson Geneva will help your troops get ready to take Atlanta.
And it just might take you a lot further.
With a massive software library and a complete line of system peripherals, the Epson Geneva PX-8 portable computer can handle sales management, or any other job you take on. And for less than $1000.
For more information, call 800 -421-5426 or 213-539-9140 in California.
EPSON Geneva
Epson is a registered trademark of Epson Corporation. Geneva and PX-8 are trademarks of Epson America, Inc.
IBM is a registered trademark of International Business Machines Corp.
---
Tag: