Descrizione del contenuto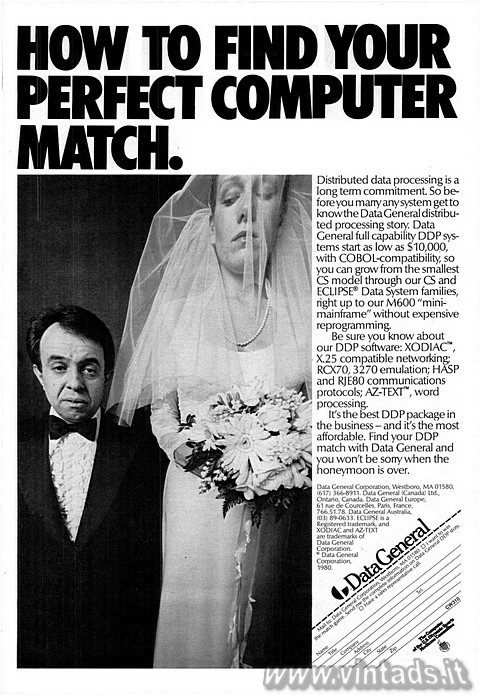 ---
Gradimento:





(1 voti)
---
Per scaricare questo contenuto devi fare login o registrarti
---
Commenti:
Non è presente alcun commento
Effettua il login per inserire un nuovo commento
Titolo:
How to find your perfect computer match.
---
Dimensione file:
473 KB (1280x1857 pixel)
---
Tipo del contenuto:
pagina di rivista o giornale
---
Fonte pubblicazione:
Computerworld
---
Data della fonte:
30 March 1980
---
Linguaggio:
en (English)
---
Marca del contenuto:
Data General

&nbsp
---
Caricato da:
Maverich
il 26-03-2020
---
Testo originale:
HOW TO FIND YOUR PERFECT COMPUTER MATCH.
Distributed data processing is a long term commitment. So before you marry any system get to know the Data General distributed processing story. Data General full capability DDP systems start as low as $10,000, with COBOL-compatibility, so you can grow from the smallest CS model through our CS and ECLIPSE® Data System families, right up to our M600 "mini-mainframe" without expensive reprogramming.
Be sure you know about our DDP software: XODIAC, X.25 compatible networking RCX70, 3270 emulation; HASP and RJ E80 communications protocols; AZ TEXT, word processing.
It's the best DDP package in the business — and it's the most affordable. Find your DDP match with Data General and you won't be sorry when the honeymoon is over.
Data General Corporation
---
Tag: