Descrizione del contenuto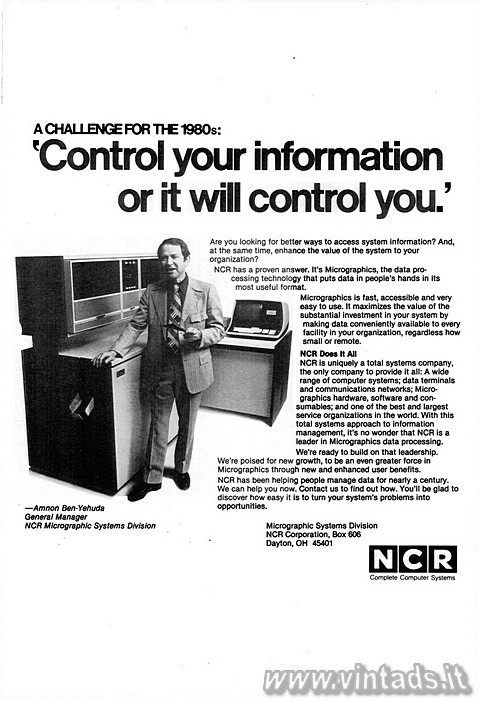 ---
Gradimento:





(0 voti)
---
Per scaricare questo contenuto devi fare login o registrarti
---
Commenti:
Non è presente alcun commento
Effettua il login per inserire un nuovo commento
Titolo:
A CHALLENGE FOR THE 1980s
---
Dimensione file:
341 KB (1280x1869 pixel)
---
Tipo del contenuto:
pagina di rivista o giornale
---
Fonte pubblicazione:
Computerworld
---
Data della fonte:
30 March 1980
---
Linguaggio:
en (English)
---
Marca del contenuto:
Ncr

&nbsp
---
Caricato da:
Maverich
il 26-03-2020
---
Testo originale:
A CHALLENGE FOR THE 1980s: 'Control your information or it will control you.'
Are you looking for better ways to access system information?
And, at the same time, enhance the value of the system to your organization?
NCR has a proven answer. It's Micrographics, the data processing technology that puts data in people's hands in its most useful format.
Micrographics is fast, accessible and very easy to use. It maximizes the value of the substantial investment in your system by making data conveniently available to every facility in your organization, regardless how small or remote.
NCR Does It All
NCR is uniquely a total systems company, the only company to provide it all: A wide range of computer systems; data terminals and communications networks; Micrographics hardware, software and consumables; and one of the best and largest service organizations in the world.
With this total systems approach to information management, it's no wonder that NCR is a leader in Micrographics data processing.
We're ready to build on that leadership. We're poised for new growth, to be an even greater force in Micrographics through new and enhanced user benefits.
NCR has been helping people manage data for nearly a century.
We can help you now. Contact us to find out how. You'll be glad to discover how easy it is to turn your system's problems into opportunities.
Micrographic Systems Division
NCR Corporation, Box 606 Dayton, OH 45401
NCR
Complete Computer Systems
---
Tag: