Descrizione del contenuto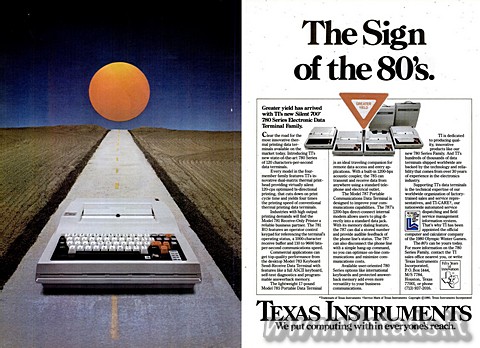 ---
Gradimento:





(1 voti)
---
Per scaricare questo contenuto devi fare login o registrarti
---
Commenti:
Non è presente alcun commento
Effettua il login per inserire un nuovo commento
Titolo:
The Sign of the 80's.
---
Dimensione file:
1,1 MB (2541x1840 pixel)
---
Tipo del contenuto:
pagina di rivista o giornale
---
Fonte pubblicazione:
Computerworld
---
Data della fonte:
30 March 1980
---
Linguaggio:
en (English)
---
Marca del contenuto:
Texas Instruments

&nbsp
---
Caricato da:
Maverich
il 26-03-2020
---
Testo originale:
The Sign of the 80's.
Greater yield has arrived with TI's new Silent 700* 780 Series Electronic Data Terminal Family.
Clear the road for the most innovative thermal printing data terminals available on the market today.
Introducing TI's new state-of-the-art 780 Series of 120 characters-per-second data terminals.
Every model in the four member family features TI's innovative dual-matrix thermal printhead providing virtually silent 120-cps optimized bidirectional printing, that cuts down on print cycle time and yields four times the printing speed of conventional thermal printing data terminals.
Industries with high output printing demands will find the Model 781 Receive-Only Printer a reliable business partner. The 781 RO features an operator control keypad for referencing the terminal's operating status, a 1000-character receive buffer and 110 to 9600 bits-per-second communications speed.
Commercial applications can get top-quality performance from the desktop Model 783 Keyboard Send-Receive Data Terminal with features like a full ASCII keyboard, self-test diagnostics and programmable answerback memory.
The lightweight 17-pound Model 785 Portable Data Terminal is an ideal traveling companion for remote data access and entry applications.
With a built-in 1200-bps acoustic coupler, the 785 can transmit and receive data from anywhere using a standard telephone and electrical outlet.
The Model 787 Portable Communications Data Terminal is designed to improve your communications capabilities. The 787's 1200-bps direct-connect internal modern allows users to plug directly into a standard data jack. With its memory dialing feature, the 787 can dial a stored number and provide audible feedback of the phone line's status.
The 787 can also disconnect the phone line with a simple hang-up command, so you can optimize on-line communications and minimize communications costs.
Available user-oriented 780 Series options like international keyboards and protected answer-back memory add even more versatility to your business communications.
TI is dedicated to producing quality, innovative products like our new 780 Series Family.
And TI's hundreds of thousands of data terminals shipped worldwide are backed by the technology and reliability that comes from over 30 years of experience in the electronics industry.
Supporting TI's data terminals is the technical expertise of our worldwide organization of factory-trained sales and service representatives, and TI-CARE, our nationwide automated service dispatching and field service management information system. That's why TI has been appointed the official computer and calculator company of the 1980 Olympic Winter Games.
The 80's can be yours today. For more information on the 780 Series Family, contact the TI sales office nearest you, or write Texas Instruments Incorporated, P. O. Box 1444, M/S 7784, Houston, Texas 77001, or phone (713) 937-2016.
TEXAS INSTRUMENTS
We put computing within everyone's reach.
---
Tag: