Descrizione del contenuto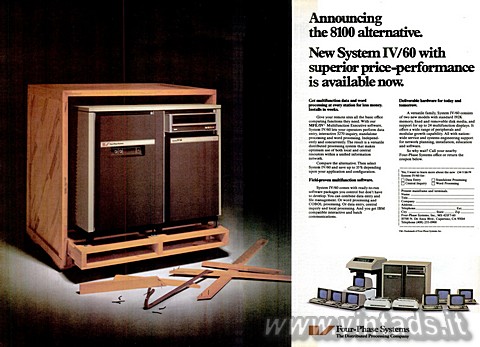 ---
Gradimento:





(0 voti)
---
Per scaricare questo contenuto devi fare login o registrarti
---
Commenti:
Non è presente alcun commento
Effettua il login per inserire un nuovo commento
Titolo:
Announcing the 8100 alternative.
---
Dimensione file:
910 KB (2541x1839 pixel)
---
Tipo del contenuto:
pagina di rivista o giornale
---
Fonte pubblicazione:
Computerworld
---
Data della fonte:
30 July 1979
---
Linguaggio:
en (English)
---
Marca del contenuto:
Four-phase Systems
&nbsp
---
Caricato da:
Maverich
il 26-03-2020
---
Testo originale:
Announcing the 8100 alternative.
New System IV/60 with superior price-performance is available now.
Get multifunction data and word processing at every station for less money. Installs in weeks.
Give your remote sites all the basic office computing functions they need. With our MFE/IV Multifunction Executive software, System IV/60 lets your operators perform data entry, interactive 3270 inquiry, standalone processing and word processing. Independently and concurrently. The result is a versatile distributed processing system that makes optimum use of both local and central resources within a unified information network.
Compare the alternative. Then select System IV/60 and save up to 35% depending upon your application and configuration.
Field-proven multifunction software.
System IV/60 comes with ready-to-run software packages you control but don't have to develop. You can combine data entry and file management. Or word processing and COBOL processing. Or data entry, central inquiry and local processing. And you get IBM compatible interactive and batch communications.
Deliverable hardware for today and tomorrow.
A versatile family, System IV/60 consists of two new models with standard 192K memory, fixed and removable disk media, and support for up to 24 multifunction displays. It offers a wide range of peripherals and modular growth capability. All with nationwide service and systems engineering support for network planning, installation, education and software.
So why wait? Call your nearby Four-Phase Systems office or return the coupon below.
Four-Phase Systems
The Distributed Processing Company
---
Tag: