Descrizione del contenuto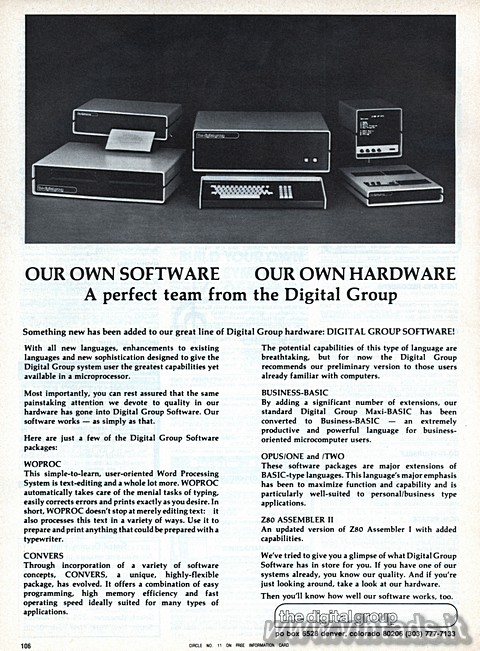 ---
Gradimento:





(0 voti)
---
Per scaricare questo contenuto devi fare login o registrarti
---
Commenti:
Non è presente alcun commento
Effettua il login per inserire un nuovo commento
Titolo:
OUR OWN SOFTWARE, OUR OWN HARDWARE
---
Dimensione file:
1,3 MB (2336x3166 pixel)
---
Tipo del contenuto:
pagina di rivista o giornale
---
Fonte pubblicazione:
Popular Electronics
---
Data della fonte:
January 1978
---
Linguaggio:
en (English)
---
Marca del contenuto:
The Digital Group
&nbsp
---
Caricato da:
Maverich
il 09-04-2020
---
Testo originale:
OUR OWN SOFTWARE – OUR OWN HARDWARE – A perfect team from the Digital Group
Something new has been added to our great line of Digital Group hardware: DIGITAL GROUP SOFTWARE!
With all new languages, enhancements to existing languages and new sophistication designed to give the Digital Group system user the greatest capabilities yet available in a microprocessor.
Most importantly, you can rest assured that the same painstaking attention we devote to quality in our hardware has gone into Digital Group Software. Our software works — as simply as that.
Here are just a few of the Digital Group Software packages:
WOPROC
This simple-to-learn, user-oriented Word Processing System is text-editing and a whole lot more. WOPROC automatically takes care of the menial tasks of typing, easily corrects errors and prints exactly as you desire. In short, WOPROC doesn't stop at merely editing text: it also processes this text in a variety of ways. Use it to prepare and print anything that could be prepared with a typewriter.
CONVERS
Through incorporation of a variety of software concepts, CONVERS, a unique, highly-flexible package, has evolved. It offers a combination of easy programming, high memory efficiency and fast operating speed ideally suited for many types of applications.
The potential capabilities of this type of language are breathtaking, but for now the Digital Group recommends our preliminary version to those users already familiar with computers.
BUSINESS-BASIC
By adding a significant number of extensions, our standard Digital Group Maxi-BASIC has been converted to Business-BASIC — an extremely productive and powerful language for business-oriented microcomputer users.
OPUS/ONE and /TWO
These software packages are major extensions of BASIC-type languages. This language's major emphasis has been to maximize function and capability and is particularly well-suited to personal/business type applications.
Z80 ASSEMBLER II
An updated version of Z80 Assembler I with added capabilities.
We've tried to give you a glimpse of what Digital Group Software has in store for you. If you have one of our systems already, you know our quality. And if you're just looking around, take a look at our hardware.
Then you'll know how well our software works, too.
the digital group
po box 6528 denver, Colorado 80206 (303) 777-7133
---
Tag: