Descrizione del contenuto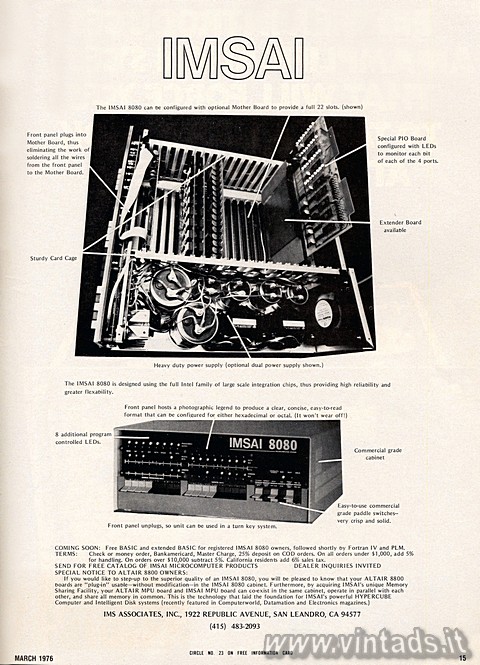 ---
Gradimento:





(1 voti)
---
Per scaricare questo contenuto devi fare login o registrarti
---
Commenti:
Non è presente alcun commento
Effettua il login per inserire un nuovo commento
Titolo:
IMSAI
---
Dimensione file:
1,6 MB (2220x3074 pixel)
---
Tipo del contenuto:
pagina di rivista o giornale
---
Fonte pubblicazione:
sconosciuta
---
Data della fonte:
March 1976
---
Linguaggio:
en (English)
---
Marca del contenuto:
Imsai

&nbsp
---
Caricato da:
Maverich
il 24-04-2020
---
Testo originale:
IMSAI
The IMSAI 8080 can be configured with optional Mother Board to provide a full 22 slots. (shown)
Front panel plugs into Mother Board, thus eliminating the work of soldering all the wires from the front panel to the Mother Board.
Sturdy Card Cage
Special PIO Board configured with LEDs to monitor each bit of each of the 4 ports.
Extender Board available
Heavy duty power supply (optional dual power supply shown.)
The IMSAI 8080 is designed using the full Intel family of large scale integration chips, thus providing high reliability and greater flexibility.
Front panel hosts a photographic legend to produce a clear, concise, easy-to-read format that can be configured for either hexadecimal or octal. (It won't wear off!)
8 additional program controlled LEDs.
Commercial grade cabinet
Easy-to-use commercial grade paddle switches—very crisp and solid.
Front panel unplugs, so unit can be used in a turn key system.
COMING SOON: Free BASIC and extended BASIC for registered IMSAI 8080 owners, followed shortly by Fortran IV and PLM.
TERMS: Check or money order, Bankamericard, Master Charge, 25% deposit on COD orders. On all orders under $1,000, add 5% for handling. On orders over $10,000 subtract 5%. California residents add 6% sales tax.
SEND FOR FREE CATALOG OF IMSAI MICROCOMPUTER PRODUCTS
DEALER INQUIRIES INVITED
SPECIAL NOTICE TO ALTAIR 8800 OWNERS:
If you would like to step-up to the superior quality of an IMSAI 8080, you will be pleased to know that your ALTAIR 8800 boards are "plug-in" usable—without modification—in the IMSAI 8080 cabinet. Furthermore, by acquiring IMSAI's unique Memory Sharing Facility, your ALTAIR MPU board and IMSAI MPU board can co-exist in the same cabinet, operate in parallel with each other, and share all memory in common. This is the technology that laid the foundation for IMSAI's powerful HYPERCUBE Computer and Intelligent Disk systems (recently featured in Computerworld, Datamation and Electronics magazines.)
IMS ASSOCIATES, INC., 1922 REPUBLIC AVENUE, SAN LEANDRO, CA 94577
---
Tag: