Descrizione del contenuto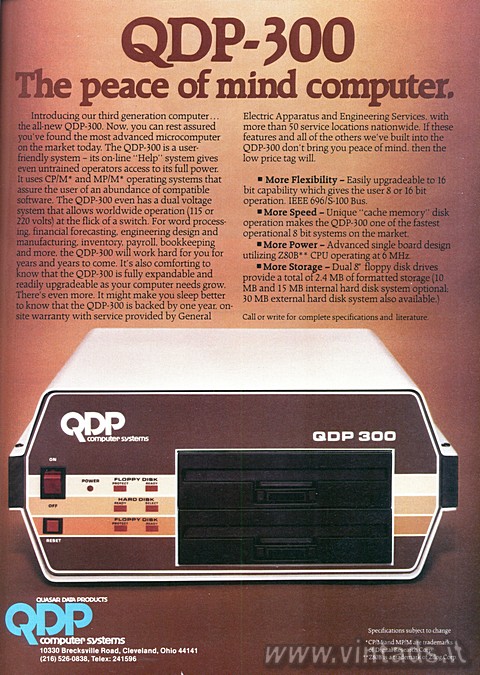 ---
Gradimento:





(0 voti)
---
Per scaricare questo contenuto devi fare login o registrarti
---
Commenti:
Non è presente alcun commento
Effettua il login per inserire un nuovo commento
Titolo:
QDP-300 The Peace of Mind Computer
---
Dimensione file:
3,1 MB (2272x3197 pixel)
---
Tipo del contenuto:
pagina di rivista o giornale
---
Fonte pubblicazione:
Byte
---
Data della fonte:
January 1983
---
Linguaggio:
en (English)
---
Marca del contenuto:
Quasar Data Products
&nbsp
---
Caricato da:
Maverich
il 29-04-2020
---
Testo originale:
QDP-300 The Peace of Mind Computer
Introducing our third generation computer… the all-new QDP-300. Now, you can rest assured you've found the most advanced microcomputer on the market today The QDP-300 is a user-friendly system – its on-line "Help" system gives even untrained operators access to its full power. It uses CP/M* and MP/M* operating systems that assure the user of an abundance of compatible software. The QDP-300 even has a dual voltage system that allows worldwide operation (115 or 220 volts) at the flick of a switch. For word processing, financial forecasting, engineering design and manufacturing, inventory, payroll, bookkeeping and more, the QDP-300 will work hard for you for years and years to come. It's also comforting to know that the QDP-300 is fully expandable and readily upgradeable as your computer needs grow There's even more. It might make you sleep better to know that the QDP-300 is backed by one year, on site warranty with service provided by General Electric Apparatus and Engineering Services, with more than 50 service locations nationwide. If these features and all of the others we've built into the QDP-300 don't bring you peace of mind, then the low price tag will.
* More Flexibility – Easily upgradeable to 16 bit capability which gives the user 8 or 16 bit operation. IEEE 696/S-100 Bus.
* More Speed – Unique "cache memory" disk operation makes the QDP-300 one of the fastest operational 8 bit systems on the market.
* More Power – Advanced single board design utilizing Z80B** CPU operating at 6 MHz.
* More Storage – Dual 8″ floppy disk drives provide a total of 2.4 MB of formatted storage (10 MB and 15 MB internal hard disk system optional; 30 MB external hard disk system also available.)
Call or write for complete specifications and literature.
QUASAR DATA PRODUCTS
QDP computer systems
10330 Brecksville Road, Cleveland, Ohio 44141
(216) 526 0838, Telex: 241596
Specifications subject to change.
*CP/M and MP/M are trademarks of Digital Research Corp.
* Z80B is a trademark of Zilog Corp.
---
Tag: