Descrizione del contenuto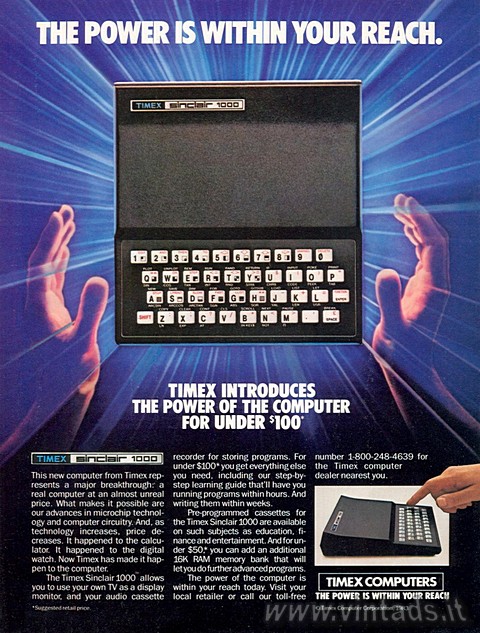 ---
Gradimento:





(0 voti)
---
Per scaricare questo contenuto devi fare login o registrarti
---
Commenti:
Non è presente alcun commento
Effettua il login per inserire un nuovo commento
Titolo:
Timex, the power of the computer for under $100
---
Dimensione file:
431 KB (1202x1586 pixel)
---
Tipo del contenuto:
pagina di rivista o giornale
---
Fonte pubblicazione:
sconosciuta
---
Data della fonte:
1982
---
Linguaggio:
en (English)
---
Marca del contenuto:
Timex
&nbsp
---
Caricato da:
Maverich
il 13-05-2020
---
Testo originale:
TIMEX INTRODUCES THE POWER OF THE COMPUTER FOR UNDER $100*
*Suggested retail price
This new computer from Timex represents a major breakthrough: a real computer at an almost unreal price. What makes it possible are our advances in microchip technology and computer circuitry. And, as technology increases, price decreases. It happened to the calculator. It happened to the digital watch. Now Timex has made it happen to the computer.
The Timex Sinclair 1000 allows you to use your own TV as a display monitor, and your audio cassette recorder for storing programs. For under $100 you get everything else you need, including our step-by-step learning guide that'll have you running programs within hours. And writing them within weeks.
Pre-programmed cassettes for the Timex Sinclair 1000 are available on such subjects as education, finance and entertainment. And for under $50* you can add an additional 16K RAM memory bank that will let you do further advanced programs.
The power of the computer is within your reach today. Visit your local retailer or call our toll-free number 1-800-248-4639 for the Timex computer dealer nearest you.
TIMEX COMPUTERS
THE POWER IS WITHIN YOUR REACH
---
Tag: