Descrizione del contenuto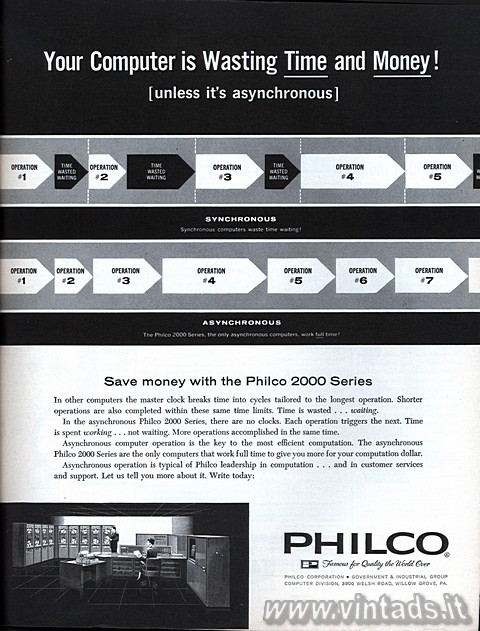 ---
Gradimento:





(0 voti)
---
Per scaricare questo contenuto devi fare login o registrarti
---
Commenti:
Non è presente alcun commento
Effettua il login per inserire un nuovo commento
Titolo:
Your Computer is Wasting Time and Money!
---
Dimensione file:
1,5 MB (2991x3930 pixel)
---
Tipo del contenuto:
pagina di rivista o giornale
---
Fonte pubblicazione:
Fortune
---
Data della fonte:
October 1961
---
Linguaggio:
en (English)
---
Marca del contenuto:
Philco

&nbsp
---
Caricato da:
Maverich
il 23-05-2020
---
Testo originale:
Your Computer is Wasting Time and Money!
[unless it's asynchronous]
Save money with the Philco 2000 Series
In other computers the master clock breaks time into cycles tailored to the longest operation. Shorter operations are also completed within these same time limits. Time is wasted… waiting.
In the asynchronous Philco 2000 Series, there are no clocks. Each operation triggers the next. Time is spent working… not waiting. More operations accomplished in the same time.
Asynchronous computer operation is the key to the most efficient computation. The asynchronous Philco 2000 Series are the only computers that work full time to give you more for your computation dollar.
Asynchronous operation is typical of Philco leadership in computation… and in customer services and support. Let us tell you more about it. Write today:
PHILCO
Famous for Quality the World Over
PHILCO CORPORATION • GOVERNMENT & INDUSTRIAL GROUP COMPUTER DIVISION, 3900 WELSH ROAD, WILLOW GROVE, PA.
---
Tag: